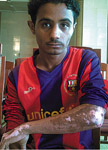 Rights groups show solidarity with the 18 Yemeni migrants burned by Saudi police [Archives:2008/1159/Front Page]
By: Saddam Al-Ashmouri
For the Yemen Times
SANAA, MAY 28- Local rights groups organized a campaign to show solidarity with 18 Yemeni citizens who were allegedly burnt by Saudi authorities while they were trying to hide themselves from security authorities in Khamis Bani Mushait, a town on the Saudi side of the Yemen- Saudi border.
The campaign was organized on May 26 in Sana'a city with participating rights groups, who said the Yemeni migrants have authorized them to defend their case in court, which will be filed against the responsible Saudi authorities.
Member of Parliament Hashid Saif, who is also the head of Al-Tagheer Legal Organization, said evidence and data are being gathered by a legal team within his organization, and a file copy will be sent to the attorney general and the ministries of the interior and human rights. He said the legal team will contact international organizations to start filing a case against the Saudi authorities sometime in the near future.
During the campaign, the 18 citizens recalled their ordeal.
"We were 25 men in Khamis Bani Mushait area,\" said Mohammed Yahya Mawdah