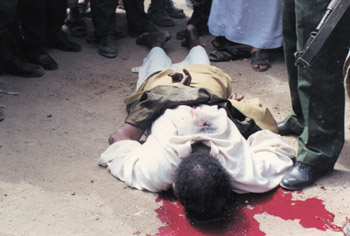 Ripper Executed, but Case Not Yet Closed [Archives:2001/26/Front Page]
Five days after the Sudanese morgue assistant Mohamed Adam Omar was executed in front of 50,000 people Wednesday near the university where he raped, killed and mutilated one Yemeni and another Iraqi women, the puzzle regarding the identity of his partners is yet unsolved.
The ripper was ordered to lie on the ground face down, his hands cuffed behind his back. A military officer fired three shoots at his heart with an AK-47 rifle. Amazingly, Omar was still alive, so the officer had to shot point blank in his head. Before the execution, which was witnessed by members of the victims' families, Omar was lashed 80 times in front of the crowd for alcohol consumption. Despite the death of Omar, the mystery is still unveiled regarding a will he wrote and which he requested to be read 40 days after his execution.
The news that Sanaa University's Ripper Mohamed Omar Adam, who was publicly executed last Wednesday, wrote a will, which he requested not to be opened until 40 days after his execution and which he gave it to his lawyer, Mohamed Al-Khatib raised a lot of speculations and curiosity. It is expected that the will include the names of those partners if he had any and perhaps revealing information of possible torture or pressure to not confess about this issue. However, it is quite obvious that if this is the case, Al-Khatib will be under tremendous pressure and could possibly be threatened and blackmailed.
The families of the two girls whom Adam confessed of killing and mutilating, namely Yemeni Hosn Ahmed Attiya and Iraqi Zainab Aziz Saud, were not satisfied with the execution alone. "We continue our demand to the unveiling of all Adam's associates in his crimes. We know that he was not alone and we will not be satisfied until they are brought to justice." Said the family of Hosn after the execution was carried out.
The lawyer of Adam did not attend the execution claiming that the trial was not fair. The general belief among the public is that there are partners and motivations for committing those crimes, and those partners may amazingly be among the highest classes of the society.
In conclusion, even though Adam is dead, the case is far away from over. "With the execution of Adam, justice has only been partially served. " been served as the lawyer of Zaynab Saud, Al-Baghdadi said. "There are many indications that the case is not only between the two victims and Adam. There are others involved as well." he added.
——
[archive-e:26-v:2001-y:2001-d:2001-06-25-p:./2001/iss26/front.htm]