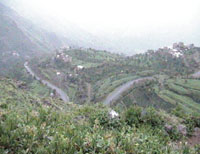 Road to taiz: Yemen's green belt [Archives:2006/993/Last Page]
Moiz Ali
[email protected]
My visit to the lush green Taiz valley was a breath taking experience. After a drive of almost two hours from Sana'a, there is a place named Hammam Ali, near the city of Dhamar. The specialty of this small town is natural hot water springs collected in caves. Occasional bath in these is a cure of many skin diseases.
On the road to Taiz is the city of Ibb. Regular heavy rains throughout the year have turned this city in the heaven on Earth. A beautifully developed hill top 'Jabal-e-Rabbi' gives a picturesque view of the lush green valley. Jiblah, famous for its historical heritage is twenty minutes drive from Ibb. The thousand year old mosque and the palace of Queen Arwa are its centre of attraction.
The mosque still has the original wooden roof scripted with Quranic Verses. The hand written scripts of the Holy Quran by the Queen and her Sandal Wood Tasbeeh of thousand beads (needing four people to hold) are well preserved.
The ruins of the palace having 360 rooms can be seen from the mosque.
The lush green mountains of Udain at half an hour drive from Ibb are a treat for nature lovers. Good quality honey is available throughout the route fresh from the farms.
If you continue on the road to Taiz just before the main city is the mosque of Hazrat Ali (A.S). It has two Qiblas, one built by Hazrat Maaz bin Jable (R.A) and the other one was later on built by Hazrat Ali (A.S). The center of the open space still has a Sun clock. It is said that Queen Arwa built a channel from her palace to this Mosque for continuous supply of water.
At fifteen minutes drive from the mosque is the valley of Taiz. The natural landscaping has been well developed. The main tourist spot is 'Jabal-us-Sabr.' On this hill is the palace of Sheikh Zaid bin Sultan. It is now converted into a grand hotel with the view of the whole city in the background.
——
[archive-e:993-v:14-y:2006-d:2006-10-26-p:lastpage]