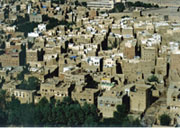 Sa'ada clashes escalate while authorities monitor all telecommunications [Archives:2007/1025/Front Page]
By: Mohammed Bin Sallam
SA'ADA, Feb. 14 ) Armed confrontations between government troops and Al-Houthi followers, which have killed dozens on both sides, are escalating in the northern province of Sa'ada, located 245 km. north of Sana'a, media sources reported Wednesday.
"Jet fighters and heavy arms have been employed in the fierce two-day clashes, killing 96, of whom 80 were Al-Houthi supporters and 16 were military soldiers, including the contingent's commander, Col. Mohammed Jaber Othman, from Radfan district in Lahj governorate. Many of Othman's bodyguards also were killed in the fighting," the same sources added, "Sa'ada's atmosphere is tense and there's an unannounced curfew, which paves the way for more military strikes by the army to end the crisis."
The government has cut telephone and internet services in the restive province since last Saturday and security authorities have ordered telecommunication and internet centers in all Yemeni governorates to register the names of those making telephone calls and using the internet, fearing support for Al-Houthi rebels. The Interior Ministry demanded such centers provide nearby police stations with daily lists of their users.
According to the media, Al-Houthi supporters are living in a state of confusion after the government suspended mobile phone services in areas where fighting is occurring. This action helped increase the death toll among Al-Houthi aides due to lack of communication and coordination with each other.
While military sources refuse to reveal field procedures they are pursuing to fight Al-Houthi rebels, a source on the recently established mediation committee told the media, "We don't know what's happening on the battleground due to the lack of communication: however, there's fierce fighting in the mountainous areas."
Official media outlets harshly criticized the mediation committee, which holds government troops accountable for resuming the clashes between the two sides. The committee asserts that the army launched sporadic offensives in Sa'ada, thereby hampering dialogue and mediation efforts.
The ruling General People's Congress accused the mediation committee, formed under President Ali Abdullah Saleh's directive, of being partial to Al-Houthi aides and demanded that its members be investigated.
The mediation committee forwarded a report to Parliament clarifying the Sa'ada events, saying, "The army still is hunting Al-Houthi followers, who have agreed to abandon their mountaintop positions and return home. Al-Houthi aides welcomed dialogue and demonstrated a will to end the crisis via peaceful means, but military escalations are hindering the progress of any such mediation efforts."
The committee says authorities insist that military action is the only solution to the problem, noting that the Higher National Defense Council, which President Saleh chairs, made a totally different decision. The Shoura Council and Parliament gave military soldiers in Sa'ada the green light to handle the situation militarily before the clashes spread to other areas.
The mediation committee says that hope for any peaceful solution to the crisis has weakened due to the increasing death toll on both sides, as each side stands firm. The area has become home to a mixture of political, tribal, sectarian, military and security problems.
Observers of the crisis warn of a human catastrophe negatively impacting innocent citizens who live in the mountains and can't evacuate to safer locations due to excessive military presence in the area.
Sa'ada sources reported that Al-Houthi rebels recently blocked the main highway between Sana'a and Sa'ada in an attempt to hamper advancing troops and on Wednesday, they bombed a small bridge on the highway.
"Jet fighters are striking Al-Houthi tribesmen in several areas, including Naga'a, the main Al-Houthi stronghold, with the aim of foiling the guerrilla wars," the same sources noted, "Bloody clashes are occurring in the areas of Safra'a, Al-Shabaka, Saqain and Dhahyan."
Via media, a military source denied that the army is using jet fighters in the clashes, pointing out that troops usually await directives from higher authorities when confronting the rebellion led by Abdulmalik Al-Houthi. He said the army and Houthis engage in periodic clashes wherein the latter usually plots ambushes against military and security soldiers on the Sana'a-Sa'ada highway.
The military source indicated that Al-Houthi rebels are detonating explosives at military sites and using heavy machine guns and mortars, thus compelling the army to return fire upon them. He revealed that the mediation committee, comprised of a group of religious scholars, demanded its task be extended until Wednesday in an effort to prevent eruption of a third war in Sa'ada.
Last Saturday, the government gave the rebels five days to surrender their heavy and light arms and evacuate their mountaintop positions. The government considered the five-day deadline sufficient for negotiating with Abdulmalik Al-Houthi regarding Higher National Defense Council conditions.
The current events represent the third round of fighting between the army and Al-Houthi supporters in Sa'ada. They are preceded by two rebellions, the first of which was led by cleric Hussein Badraddin Al-Houthi, who was killed in September 2004. The second rebellion, led by Hussein's father, ended in April 2005.
Abdulmalik Al-Houthi denied any relations with Iran or Libya and urged Saudi Arabia not to listen to what Yemeni authorities are saying regarding the Sa'ada fighting and its motives. "We've never received support from any foreign parties. Arab states were supposed to intervene in the situation and end the bloodshed," he noted.
Asked by Nass press whether the issue has something to do with tense relations between Saudi Arabia and Libya, Al-Houthi explained, "I have a comment regarding Arab regimes, particularly those bordering Saudi Arabia. I advise them not to believe what's said by the authorities, who claim we are conducting hostile acts against Arab regimes and pose a risk to them.
"For both us and the Arab regimes, the U.S. and Israel are the real source of danger. The government exploits false rumors to receive support from some Arab nations [hinting at Saudi Arabia]," Al-Houthi claimed.
During his most recent visit to Saudi Arabia, Sheikh Abdullah Bin Hussein Al-Ahmar carried a letter from President Saleh to Saudi Arabia urging it to surround Al-Houthi followers from the north and east in order to move toward the Empty Quarter Desert.
Authorities conducted several arrest campaigns against citizens in Sana'a and Sa'ada for alleged links with Al-Houthi and his tribesmen. According to media sources, up to 60 people have been arrested up until Tuesday.
A group of policemen believed to belong to national and political security organizations stormed Abdulkarim Al-Houthi's house in Sana'a on Monday and took him to an unidentified location. Abdulkarim Al-Houthi is Abdulmalik Al-Houthi's cousin and has been living in Sana'a since the first Sa'ada rebellion in 2004. He has been in daily contact with top government officials, including President Saleh, and has contributed to reducing tensions between the army and Al-Houthi supporters.
According to media, on behalf of his uncle, Badraddin Al-Houthi, Abdulkarim Al-Houthi had been engaged in negotiations with Sana'a authorities regarding the Sa'ada crisis. Abdulkarim Al-Houthi was arrested in a series of governmental arrest campaigns against those suspected of links with the Shi'ite rebellion.
——
[archive-e:1025-v:14-y:2007-d:2007-02-15-p:front]