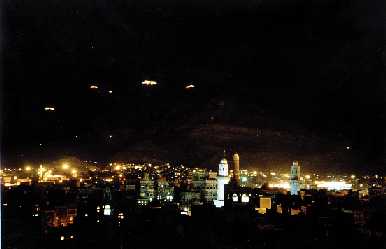 Sanaa by Night [Archives:1999/11/Last Page]
click to see high resolution image
  Sanaa nowhere compares to the glittering skyline of large cosmopolitan cities worldwide. It cannot afford it, if only because of the shortage of electricity. But then again, it is not just the lighting that gives beauty. I have found that the variations between bright and dark spots, and the creeping shades of both, gives a spectacular view. 
Sanaa by night also offers a calming, almost soothing feeling. The temperature is invariably cool, and you can always count on a refreshing breeze of air caressing you as you stroll the streets or just sit down in one of the cafes. 
Yes, that is another thing. The city has seen a tremendous growth in the number of places that individuals, families and groups can go and relax at in their evening outings. It need not be some fancy place. It is the atmosphere that counts, not the value of the chair on which you sit. 
I am not normally a night person. As a workaholic and an ardent Calvinist, I also did not understand how people can afford to simply sit down for hours and gaze into the yonder. 
Sanaa is blessed with several mountains around the city. Drive west to Asir Mountain – some 4 kilometers away. Go to the Monument of the Unknown Egyptian Soldier or the Chinese Cemetry – both perched on elevations that overlook the city. 
It is the company that counts. Take the family or friends. Don't go there alone! Also remember to take your own snacks and drinks. There are no services. It is amazing that investors have not yet opened their eyes to these enormous business opportunities. 
It is not just Sanaa that has the lofty and majestic mountains around it. Most Yemeni cities – Aden, Taiz, Ibb, etc., are blessed with neighboring mountains that offer lovely night outings for its residents and visitors. 
Unfortunately, the Yemeni people have not enjoyed these natural facilities in the past. There are two reasons for this. Historically, Yemenis are not night people. The cities of Yemen sleep early. Until three decades ago, Yemeni cities had gates which were closed at sunset. 
Second, there is this evil habit of qat chewing. After a long chew, most adults are not in a mood for outing or company. 
This leaves non-Yemenis, or at least non-chewers, to have it all for themselves. If I were a tourism promoter, I would make such evening outings a part of the visit program. 
Abdulaziz Al-Saqqaf, 
Chief Editor, 
Yemen Times. 
——
[archive-e:11-v:1999-y:1999-d:1999-03-15-p:./1999/iss11/lastpage.htm]