Sea turtles of Yemen:The great survivors [Archives:2007/1050/Health]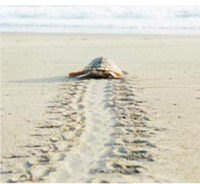 By: Alice Firebrace
For Yemen Times
It was the dead of night as we ran along the beach toward the flashlight shining into a hole somewhere in the darkness. I heard a shout as one of our party obviously stumbled into an unseen trench. I turned to look, my eyes not quite adjusted from the glare of the car headlights now in the distance. I took her hand, hauled her out and headed for the flashlight again.
Arm in arm we trundled through the sand when down we both went, pulling each other into another burrow as we grappled for each other's support and tried to maintain our dignity by avoiding falling yet again into another sea turtle hole.
The 'Green Turtles' (Chelonia mydas) we saw that night on Sharma beach are just one species of turtle living in Yemeni seas. The Hawksbill turtle, the Loggerhead turtle, the Oliver Ridley turtle and even the rarest Leatherback turtle also have been recorded in the waters of the Gulf of Aden.
Sea turtles return to the beach where they were hatched to lay their own pile of 100 or so eggs. A sea turtle may lay up to seven times a season, hanging around shallow water near beaches for a week or so before hauling themselves back to lay another batch or sometimes just to dig a false hole in order to confuse their many predators.
Female sea turtles don't eat during this time. Also, preparing the many nests and traveling thousands of miles to nesting beaches significantly depletes their energy reserves, so they need to recuperate from the ordeal for four years or more before breeding again.
Eggs incubate for about two months, after which the hatchlings dig their way to ground level. Since the daytime heat causes them to become sleepy, most sea turtle hatchings occur during the cool of the night. They can do little to avoid their many predators, such as ghost crabs and feral dogs that pick them off during their short trek to the sea.
During the next couple of years, the tiny sea turtles drift with the sea currents, eating what they can in order to gain size and be less of a target for the many fish, etc., that may eat them. It's estimated that only 0.1 percent of hatchlings ever reach sexual maturity.
After approximately 10 years, the survivors move to feeding grounds where they remain until large enough to breed at around 40 years old. After this, they return to breeding grounds to mate and lay their eggs and then return repeatedly over a lifespan that can reach up to 150 years.
We finally found the sea turtle we were headed for that night. It heaved itself up to above the tide mark, leaving tractor-like marks in the sand behind it. With focused determination, it began paddling sand out of the dunes with its back flippers, flicking it in waves into the darkness behind. We watched in silence, punctuated by deep puffs from the exhausted turtle, until a large hole had been made.
It then angled its flipper inward and dug a smaller, deeper box-shaped hollow at the bottom of the crater it had just created. It slowly filled this with eggs before covering it with sand to disguise the nest. Then, heaving from fatigue, it crawled back to the sea and, with an agility barely recognizable on land, vanished beneath the dark waves.
Unfortunately, despite all of the turtle's attempts at disguise, both poachers and dogs quite easily find and dig up the eggs to eat, thus killing a disproportionate number of sea turtles before they've even had a chance to hatch. Collecting their eggs may not have a visible short-term impact on the number of sea turtles in the wild, but once the older ones have died off or been killed, the lack of a younger generation will be felt.
Besides the pressure on their eggs are many other threats to sea turtles worldwide that have threatened to eradicate some species completely. As seems to be the case with many species facing extinction, man has been the greatest menace.
For one thing, sea turtles are very selective about which beaches to lay their eggs. As the human population has grown, many communities have moved onto beaches or use them for fishing. Beaches also are lost through erosion, either natural or due to interference with the natural coastline, such as building jetties, etc. The loss or reduction of even a single nesting beach can seriously affect the sea turtle population.
Sea turtles easily can become caught in fishing nets, especially those trawling near the coastline, thus trapping turtles that may have come to the coast to lay their eggs. This drowns the turtles because they're prevented from coming to the surface to breathe.
There are reports that a more direct turtle slaughter still takes place on Sharma beach, which we visited. One occurred a couple of nights before I visited and you could see empty shells just a couple of meters from the road. Although agile in the sea, they are laboriously slow movers on land and thus, easy targets.
Historically, turtles have been eaten, especially by sailors, who considered them a good supply of protein on long voyages, and turtles were sold in Europe to make turtle soup. They also are sold around the world for their shells, although this practice is now illegal in Europe and many other parts of the world.
Sea turtles also are killed for use in traditional children's medicines, although it's unknown whether they actually have beneficial medicinal properties. Nevertheless, such medicines are held in high regard and fetch a good price, but this practice clearly isn't sustainable. Medicines that don't threaten these endangered animals must be made available.
Additionally, those who profit from such killing must be made aware of the economic advantages of protecting them, for example, through engaging in the growing ecotourism sector. The latter could have both positive and negative effects and should be monitored, as it's important not to disturb nesting sea turtles or scare them away from beaches. The past 100 years have seen sea turtle numbers significantly decrease due to these growing demands.
Other threats include their eating plastic and litter that too often find their way into the sea. Additionally, hatchlings can become distracted by artificial lighting that has been installed in recent times, meaning they hang around longer on beaches, thus making them more susceptible to their many predators. Light also dissuades female sea turtles from coming to beaches and laying.
Like all animals, sea turtles also suffer from tumors and other diseases Declining water quality due to pollution also can affect sea grasses that turtles eat.
Protecting sea turtles makes good sense because the strength of a turtle population is a good gauge of how healthy an ecosystem is as a whole, including fish stocks. However, defending sea turtles is a complex business because although they may be protected in some areas, the distances they migrate may land them somewhere where measures aren't in place for their protection.
Conserving sea turtles effectively entails conserving the seas as a whole, which requires education and a dramatic rethinking of our attitudes and ways of dealing with the environment. "Conserving marine turtles means protecting seas and coastal areas, which in turn means protecting a complex, interconnected world on which human societies depend" (Frazier 1999: Research and Management Techniques for the Conservation of Sea Turtles, Publication No. 4). Other benefits include tourism, research and education.
Yemen's Sharma and Jethmoun beaches are the second largest sea turtle nesting areas in Arabia after Oman, so protecting them here means protecting a large proportion of the sea turtle species as a whole.
In Yemen, killing sea turtles is banned, as is collecting their eggs, although effective enforcement is difficult for the time being. It seems education is the best way to stop the killing of such turtles. To date, Yemen's conservation efforts have included running workshops to tell locals about the benefits of protecting sea turtles and their environment. Nevertheless, people still come from the cities to collect the eggs, meat or shells because there's still a market and they still fetch a good price.
However, the Ministry of Water and Environment's Environmental Protection Authority is planning ahead and will be attempting to halt the declining sea turtle numbers via several means, mainly by introducing a system whereby an area is zoned according to its environmental significance. For example, in places such as Sharma and Jethmoun, human activity would be limited so that nesting sea turtles are left in peace. Fishing in these specific areas would be constrained, as would other activities that might harm the turtles.
Legislation to enact these measures has been drafted and needs final Cabinet approval and then funding to further the project. Currently, guards are patrolling beaches and scaring off dogs and poachers. Although this is helping, turtles still are being killed, as we witnessed on the beach that day.
In the future, an entire sea turtle surveillance program will be put in place, including tagging turtles to keep track of their numbers and whereabouts, counting their eggs, etc. Plans for ecotourism in the area also are being considered.
So far, humans have been moving in precisely the right direction to wipe out an animal that has outlived the dinosaurs, the earliest known fossils of which are about 150 million years old. Perhaps they won't be able to withstand the impact of the human population. It would be a terrible shame if in the future these creatures were banished to natural history books as one of the many species annihilated by environmental damage and negligence largely caused by humans.
——
[archive-e:1050-v:15-y:2007-d:2007-05-14-p:health]