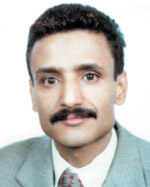 Self-Initiative Efforts Deserve Support [Archives:2001/33/Last Page]
Self-initiative ventures by some individuals have proven to be more successful even more than the government-sponsored ones. A praise-worthy work is the exhibition held at the Al-Afif Cultural Establishment by Mahyub Najee al-Kamali. Various old currencies from Yemen and different countries of the world were displayed at the exhibition.
Yasser Mohammed Ahmed of Yemen Times conducted a short interview with Yusif Mahyub al-Kamli the organizer of the exhibition and filed the following excerpts.
Q: When did you start the hobby of gathering old currencies?
A: I started collecting old currencies since I was young as my mother used to keep lots of old currencies. My idea at first was to publish a book on currencies and then I decided to hold an exhibition for these currencies at Al-Afif Cultural Foundation with my own efforts. This was my first exhibition and I bore the expenses of it myself. Actually this exhibition came after three years of continued quest for support from the concerned authorities for sponsoring an exhibition for these currencies which came to no vain.
Q: What does your exhibition include?
A: The exhibition has been divided to different stands based on the historical hierarchy of the different dynasties and reins which existed in Yemen. There are some coins which date back to the stone age, Sabaite, Himyarite and Hadramiate dynasties while some others date back to the Islamic era and its different dynasties. Some other coins date back to the Ottoman Empire, the Imamate rule up to the eruption of the 26 September in 1962.
The other stand displays Arabic coins for some Islamic countries in addition to other coins from different parts of the world.
Q: Any final comment?
A: I would like to thank Yemen Times for this interview and I hope that the president of the republic will support my project to establish a national museum for old coins and manuscripts.  
——
[archive-e:33-v:2001-y:2001-d:2001-08-13-p:./2001/iss33/lastpage.htm]