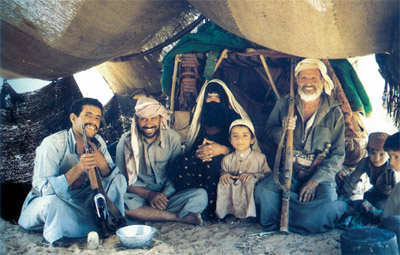 Simplicity and Hospitality of Bedouins [Archives:2001/19/Last Page]
A section of the people in Mareb are still holding fast to their conventional customs and traditions which go back three thousand years. They have their special and unique houses which are taken when they go camping in the desert or valleys in search of water and grass.
Houses are built according to the old customs. They are made of coarse cloth. The place is divided into two parts; one for men and the other for women. These tents differ from modern imported tents. They can bear the heat of the sun and the ravage of rains. They are beautified by some decorations. Most of the people who go out camping in the desert and valleys use these tents.
In "al-Kaar" meaning the male place poetry is recited and pipe is played. They also perform a special dance called "al-baal". Fire is lit in front of the place to prepare Arab coffee, and roast meat.
Mareb is located in the North East of Yemen, next to al-Jawf in the North and Shabwah in the South. When you move out of the city to an area called Ramlat al-Saba'ateen, Rayan mountains, Shokah al-Kawra'a, Reyam, Areen, Qanaw and al-Lawth etc., you will find many Bedouins living in these traditional tents. They depend mainly on camels and cattle as their main source of living. They lead a simple and happy life.
It is true they are the Bedouins of today. However, they were the harbingers of civilization in the old times. Belqis temple, Awam, etc., located in Mareb bear testimony to this. Historians indicate that Mareb was built in the second milenia B.C. It was ruled by many rulers from Saba who contributed a lot to build the historical castles, forts and the great dam of Mareb which date back to the eighth century B.C. This is Mareb and these are the people of Mareb with their simplicity, and hospitality making any visitor deeply admire their way of life and wish to spend more time in their company.
——
[archive-e:19-v:2001-y:2001-d:2001-05-07-p:./2001/iss19/lastpage.htm]