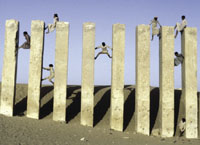 Smuggling antiques is still a problem, say experts [Archives:2007/1095/Front Page]
Hamed Thabet
For Yemen Times
Hundreds of antiques have been smuggled to other countries. A lot of them were smuggled through Sana'a International Airport, officials say.
Sana'a University lecturer Dr. Mohamed Al-Aroosi, former president of Yemeni General Organization of Antiques and Museum ( GOAM), said the Yemeni law does not have any strict punishment for those who smuggle antiques and sell them to other countries.
This unfortunately results negatively by encouraging them to do more smuggling without having any fear from the government or any other side, he added.
Al-Aroosi said: \"This entire crime against our heritage takes place because the law is not strict as it should be. Hundreds of ancient places are getting destroyed and looted by those smugglers who are digging irrationally to find the priceless antiques.\""
\""If we try to ask the government or concerned authorities