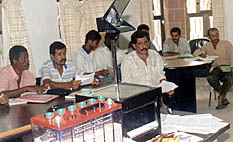 Solar-Powered Refrigerators At EPI [Archives:1998/32/Health]
At the Expanded Program on Immunization (EPI) center a training course was held from July 16 to August 4. It is meant for training some people working in the field of health on how to use the solar-powered refrigerators to keep vaccines in good potency. There are 12 students from different governorates. This new cold chain system will help very much, especially in remote places.
Mr. Mohammed Ali Kulais, the director of the EPI center said that the 20 solar-powered refrigerators will be installed in around 15 districts in different governerates in Yemen. "We really do thank the Japanese government for providing the center with this new system. We also thank the UNICEF and WHO for supporting our program.
This system will help us very much in integrating hepatitis B vaccine to routine immunization soon, which will be launched in September 26," he said.
Mr. Tawfiq Qaid Abdullah, the director of the Cold Chain Mentainence said that the new system will save a lot of money since the previous refrigerators worked by gas. This means one gas cylinder cost around YR 800 in far off regions. This system will focus on the far off and populated regions. " We have installed two refrigerators in Sanaa and two in Dhamar. And in the coming few day we will do the same in Taiz, Lahj and Abyan" he said.
Mr. Jo Gwillim, a trainer from the UK, said: "We supplied the UNICEF with this system, and a part of the contract is to come and show people how to install the fridges properly. It is necessary that people operating these equipment should be fully acquianted with them. Now we are training 12 students. The program is going very well. We are very interested and pleased to train them since they are learning very quickly. I gave such a course to students in other countries but they were not learning as quickly as these students."
By Mohammed Hatem Al-Qadhi,
Assistant Managing Editor,
Yemen Times
——
[archive-e:32-v:1998-y:1998-d:1998-08-10-p:./1998/iss32/health.htm]