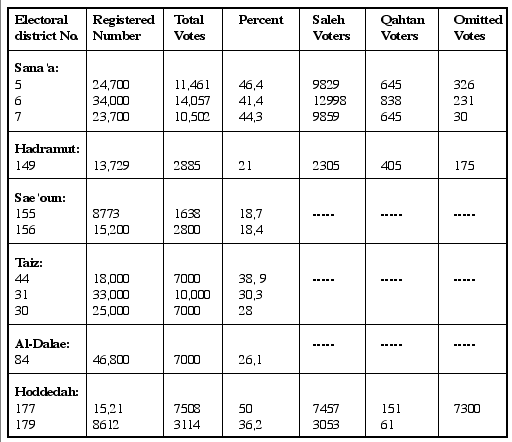 Statistics About the Presidential Elections [Archives:1999/39/Local News]
By: Mohammed bin Sallam,
Yemen Times
The Yemeni Presidential Election ended with the winning of President Ali Abdullah Saleh against his competitive, Mr. Najeeb Kahtan Al-Shabei. Absolutely, this result was expected by all citizens and supervisors. The local and international supervisors believed that the process of voting was low. The official information did not give the accurate result about the reports which was received by the Opposition Coordination Council during its voting supervision .
Here we would like to illustrate some of the samples which we received from the Opposition Coordination Council about voting in some governorates:
On the other hand, members of the People's General Congress accused the members of the Islah Party that their participation was not that expected. The members of Islah replied, saying that the elections results were already foreseen and that the president is to be the winner. Moreover, they accused some officials of the PGC leadership of preserving to themselves the money assigned for the transportation of voters. On the other hand, the Opposition Coordination Council affirmed that the participation in voting was low. However, Yemeni and international supervisions expect that relations between the PGC and Islah will witness hard times, especially as the time of Parliamentary elections are very near which might tensify the tension between the two parties in particular and all political parties in the arena in general.
——
[archive-e:39-v:1999-y:1999-d:1999-09-27-p:./1999/iss39/ln.htm]