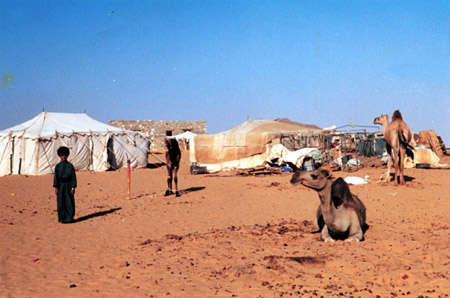 Sufferings of the People of Sahara [Archives:2001/42/Last Page]
The inhabitants of the western region (like al-Jauf, Mareb and Shabwa) are still living a bedouin lifestyle, depending on traveling on the quest of pasture and water for their livestock, which are the principal source of living for the people of the desert.
The bedouins live in the Sahara inside tents and huts that protect them from sun and wind. The life of the bedouins is a conventional and simple one since they depend on cooking their food on wood. Moreover, the meals they serve are mostly the same throughout the year, as milk produced by livestock and its derivatives are the principal meals served at all times.
Children of the Sahara
Passing through the Mareb desert where the oil and gas fields are located, one could see the bedouin children graze their livestock while trying to keep their livestock from mixing with the other livestock belonging to the other tribes, although pasturing in the desert is accessible to all, according to the tribal traditions and norms. Furthermore, due to the difficult living circumstances of the people of Sahara, they have no access to education and most of them are illiterate. The young bedouins willing to have education are sent to their relatives who live beside schools, while female bedouins can not even dream of having an education. Regrettably, the oil and gas companies operating near Mareb have not assisted thus far in building a school or a health unit in return for the oil extracted from these people's lands.
Polluted Environment
We stayed for two days in the desert traveling among the bedouins and found that damaged oil wells and the waste materials dumped by the oil companies there have badly affected the environment here. At early morning, one could see clouds of smoke covering the air of the desert. It is difficult to breath this polluted air.
Black Rains
Abdullah Hamoud Shawdaq told us that he has been living in the desert for 20 years and there did not use to be any problem, but with the arrival of the oil and gas companies everything changed. "Black rain has become a nightmarish problem for the people of the desert since rainwater turned to be as if mixed with oil, resulting in devastating the plants and grass of the desert and causing different diseases to the inhabitants of the desert," Shawdaq added.
Bedouins and the Right to live
The environment of the desert should be protected and the inhabitants of the desert must be provided with schools and health units on an equal basis with the other citizens of the country. Also, the oil companies operating in the neighborhood of the bedouins should contribute to developing this area. It is regrettable that these companies are conscious of the fatal consequences of the pollution they have caused, but turn a blind eye to these people who do not know their rights.
——
[archive-e:42-v:2001-y:2001-d:2001-10-15-p:./2001/iss42/lastpage.htm]