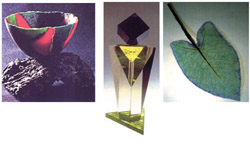 "THE MAGIC OF GLASS": TWO FRENCH SCULPTORS TO HOLD EXHIBITION AT THE FRENCH CULTURAL CENTER [Archives:2001/14/Last Page]
The two French sculptors Frederique FANDRE et Yvon CHIAMPO will be holding an exhibition entitled "The Magic of Glass" at the French Cultural Center (CCF) from the 7th to the 23rd of April 2001. This exhibition of glasswork will be open to the public five days a week from 9 a.m to1 p.m and from 4 p.m to 8 p.m, on the 2nd Floor of the CCF.
The opening ceremony will take place His Excellency Dr. Abdulmalik Mansour, Minister for Culture and Tourism as the chief guest at 7 p.m in the Arthur Rimbaud Hall. During the opening ceremony, the artists will present a slide show through which they will comment on their glass sculpting techniques.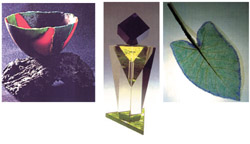 The exhibition "The Magic of Glass' was inspired by the artists' experiences in Yemen, and has been specifically designed for a public presentation in Yemen. This is also the first time the works will be exhibited.
After several visits to Yemen, they were struck by the intense, and sometimes supernatural, light of the Yemeni sky. In "The Magic of Glass", the artists tried to capture the luminosity that they have found in Yemen. This unique exhibition explores light and color spectrums and how it reflects on glass. Yvon CHIAMPO's glass sculptures are a kaleidoscope of forms playing unpredictably with light. Frederique FANDRE's work includes experimentation with glass-melting, encrusting leaves, and creating a dynamic, artistic form of fossilization.
Glass as a material made by humans has a history of 5000 years, and is always being reinvented and changed. Even though there have been many generations of experience associated with it, it is still a difficult material to create art from. These difficulties should be appreciated when considering glass art.
After presenting an exhibition featuring sculptures and paintings last month, the FCC is now lending its support to this totally different form of artwork. "The Magic of Glass" exhibition is the first of its kind in Yemen.
——
[archive-e:14-v:2001-y:2001-d:2001-04-02-p:./2001/iss14/lastpage.htm]