The struggle between youth and Qat – Who will prevail? [Archives:2008/1219/Last Page]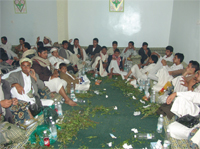 By: Ali Saeed

A Yemeni-youth gathering at the Al-Afeef Cultural Foundation provided some interesting insights into young people's perception of this social phenomenon. During this discussion, experiences were shared and awareness raised about the hazardous physical and psychological side-effects of qat.
In a bid to further combat the spread of this habit, the symposium held earlier this month revealed some creative news ways to help Yemeni youths stop consuming their time, money and minds with qat.
Organizers of the symposium, which saw a number of young Yemenis share their experiences, also aimed to assess the extant to which the youth of today are eager to kick the habit.
Aiman Al-Hamadi, a student in the faculty of pharmacology at Sana'a University, is vehemently anti-qat, and during the symposium he talked about his experiences when chewing. He also mentioned the story of how qat first came to Yemen.
According to him, qat came to Yemen through Ethiopia. Sufi scholars apparently brought the qat tree to Yemen along with their religious customs. These scholars used to chew qat in the mosques, and so it wasn't long before Yemenis followed suit and became hooked.
Al-Hamadi explained the hazardous substances in qat. He said that qat leaves contain the amphetamine-like chemical cathinone, which is why qat chewers are often addicted. Al-Hamadi also claims to no longer chew qat.
Another youth, who occasionally chews qat at the weekends, disagrees with Al-Hamadi saying that Yemenis chew qat not because it is addictive, but because they are forced to chew as a mental escape from economic problems. He also believes that chewing qat is only one of the many problems facing Yemenis today.
Ahmed Al-Nakhotha, leader of the Anti Qat Chewing Journey, disagrees, instead saying that chewing qat is a completely personal habit; no one will force you to chew. He also noted that that if someone wants to give up chewing, he must be determined.
Al-Hamadi supported the idea that determination is the only way to give up the habit, and related a story about his own experience. He said that one day he and his father visited friends in their village and after lunch they were offered qat leaves, but they refused to chew. The host then threatened to shoot them if they would not chew! Because their host would not respect their personal wishes, they left the house never to return again.
Nasser Al-Shama'a, an officer at the Sana'a based NGO Life's Makers Club, said that the United Nations in 1973 classified qat as the 15th type of drug. He added that most qat chewers in Yemen are youths, and that there are statistics suggesting the qat chewing can lead to other drug addictions.
Another youth spoke out about how important this topic is to Yemeni youths, and expressed his interest in giving up qat. He highlighted that Yemeni youths are suffering from a surplus of free time; since there are no cultural activities to engage them, they often turn to qat for entertainment.
Al-Nakhotha commented that justifications for chewing qat are many varied, yet almost universally weak and unjustifiable.
A mother of four children attended the seminar and expressed her opinion, saying, \"I have four children