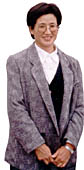 The Volunteer Ishida: Deeds not Words [Archives:1998/37/Sports]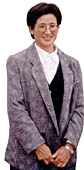 The Japanese volunteer Ishida is the wife of the Japanese ambassador in Sanaa. She has a distinct role in arranging cultural and sports activities among the Yemeni young people. She is an example of the fruitful cooperation between Yemen and Japan. All these things made me pay a visit to the Yemen Japan Friendship Association (YJFA) in order to see and talk to this woman. As I arrived, I saw her teaching Japanese to some Yemeni guys.
When I asked her to talk about herself, she said: "I began teaching Japanese to Yemeni people as a volunteer before 2 years. We had enough support to open a class inside the YJFA. Later, we began to arrange for some sports activities. For example, we arrange football, basketball and volleyball matches between Yemeni teams and foreign societies in Yemen. In 1996, during the cruise of the Japanese Ship for World Young People (JSFWYP), a sports activity which 
Japan arranges every year, a large number of Yemen young people participated. They knew a lot about the traditions and customs of several countries.
Indeed, Yemen is a very nice and traditional country. Yemeni young people have good abilities but they need support. The Japanese Government will sponsor the building of an indoor sports hall in Yemen. In addition, we offer you some scholarships. I hope that the Japanese language class in Sanaa will be a whole special institute. This will, in my opinion, contribute to developing the relations between Yemen and Japan."
——
[archive-e:37-v:1998-y:1998-d:1998-09-14-p:./1998/iss37/sports.htm]