"Together towards distinctiveness"Ghee and Soap Company holds celebration [Archives:2005/806/Community]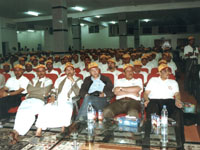 By Yemen Time Staff
Taiz Bureau
Under the slogan 'Together towards distinctiveness', Yemen Company for Ghee and Soap (YCGS) organized the Annual Workers Company in the hall of Islamic Sciences Faculty.
Shawqi Ahmed Hayel, Deputy Manager of the Industrial Administration in Hayel Saeed Anam Group of Companies, explained such meetings with workers reinforce direct contact between the company and its staff.
He appreciated that YCGS is the first to organize these meetings to award creative, hardworking, and distinguished workers.
"This celebration concluded a year of work with various bright stations letting the company achieve different accomplishments that wouldn't have been achieved unless the efforts of all workers were unified,"
Shukri Al-Furais, General Manger of YCGS, said "the company is qualitatively getting developed either in the productive capacity, the administrative performance, qualifying human resources, use of modern technology or the high quality of the products in the internal and external markets allowing it to be first Yemeni company to have the World Quality Certificate (ISO 9002 and 9001), giving our products the passport to go to many Arab, European, Asian and African countries.
"The company obtained 94 per cent in the exchange enzyme system that aims to implement the international standards, ensuring a healthy atmosphere for workers. It also attained 97 per cent in the Enzyme Monitoring System which secures protecting workers from harms. That was after being studied and evaluated by the French Uniliver Company."
Al-Furais unveiled that there will be a celebration soon on the occasion of receiving the certificate of "Good Industry Practice" by Yemen Standardization, Metrology and Quality Control Organization (YSMO).
Concluding the celebration, Al-Furai, Hani Abduljabbar, Deputy General Manger, Mohammed Abduwase'e, Deputy General Manager of Yemen Company for Packing Materials, awarded the Best Workers of 2004, and the YCGS Person of 2004, who is Mukhtar Al-Faqeeh, Marketing Manager.
——
[archive-e:806-v:13-y:2005-d:2005-01-10-p:community]