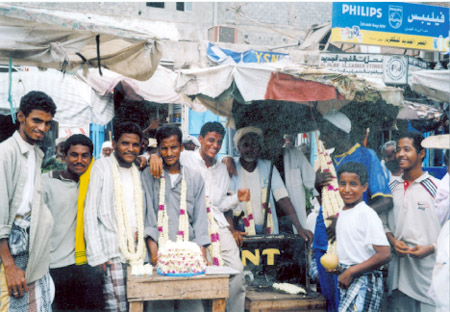 Tradition in Hodeidah [Archives:2001/40/Last Page]
Abdu Darwish Zeidan
Like the coastal cities, Hodeidah and the neighboring districts still preserve different kinds of features. However, traditions and conventions are almost alike, except the folklore which is different in almost every area due to different demographic formation.
Bab Mushref
Many people in Hodeidah say that many of their traditions and conventions sprang from Bab Mushref. In fact, if you don't know this area, you cannot claim that you know Hodeidah. It has the same importance Bab Al-Yemen has in Sana'a. Bab Mushref is the only remaining gate leading to the city.
Hodeidah was surrounded and fenced in by a huge wall that had four great gates. The wall collapsed. Only one of its four gates, Bab Mushref, is still there. Opposite the gate, there is also still one of the historic fortresses which has been converted into a police station.
The neighborhood of the area includes the Grand Mosque and the old market.
The great number of occasions celebrated by the Hodeidian people made some writers describe the city as the Egypt of Yemen. They are very concerned with luxurious things and decorations. People may be past their twenties and not yet be married. This is not because of the expensive demands of the brides or their families, but because the exaggerated celebrations which require a lot of money.
Married people have their own traditions. Husbands should come back with jasmine and other kinds of fragrant flowers for women to enjoy their gathering with their aroma. This is part of the daily expenditure. Some contract flowers peddlers to pass daily by their houses. Other daily purchases include tobacco.
Jasmine's price depends on the season. A garland of jasmine is 1000 riyals in the summer, its season, and 3000-4000 in the winter.
Folklore
Folklore in Hodeidah is one of the most important tourist attractions. The most popular folklore dances are sea dance and the forsani, which are very popular on Kamaran island. There are also the khaiali, assaq, arrazfah, azzamel, azzahrah, ashamiah, al-mureisi, azzahfah and many others. Some of these dances are African.
Al-Huseiniah is the name of one of the most important folklore festivals in the city. Other kinds of activities, such as horse-racing and jumping over camels, are practiced during the same festival. Another festival is the Palm Festival which usually runs from May until August of every year. Similar activities of culture, tradition and sports are also practiced during this festival.
Religious Occasions
More than 50 places have been listed as religious hearthstones. Most of these are graves of religious people. Some graves are no longer visited due to the growing awareness of people of those areas, such as people of Assidiqiah, where Sheikh Al-Siddiq is laying in peace.
The other places are located in Al-Maraweah, Al-Khokhah, Kamaran, Al-Zeideiah, Bajel, Beit Al-Faqih, Zabid, etc.
As people in Sana'a celebrate on the first Friday of every 'Rajab,' people here celebrate what is called the 'Night of Delight' in Shaaban.
Hot Springs
It was a habit of inhabitants of Hodeidah to go to the hot springs. Today, only a few people do that. This might be attributed to the difficult economic situations of families. Two kinds of people still go to such springs: the rich and those seeking recovery.
Most of these springs are located in Al-Sukhnah, Bajel, Al-Zahrah, etc..
Traditional fashion
If we exclude the city that has been affected and influenced by modernization, dresses and clothes can be divided into threes categories. For example, women in Zabid wear 'Al-Karnah,' a cotton long dress with a futa. Men wear Al-Musanaf, Al-Majar, Al-Madraah, Al-Maqtab, etc., which are all locally made. People of Al-Zaraniq put a piece of silver on their heads, while their women wear circle silver pieces on their legs, waists, etc. Such pieces are adorned by precious stones.
Handicrafts
Some people still work on handicrafts such as pottery and other kinds of cottage industry. One of the important traditional industries is ship and boat-making, which is more popular in Al-Khukha and Al-Luheiah. Other activities include producing oil, as in Bajel, Al-Maraweah, Al-Mansoriah and Hodeidah, agricultural tools as in Bajel ,Al-Qannas and Al-Khukhah, and daggers and weaving as in Hodeidah, Beit Al-Faqih, etc.
——
[archive-e:40-v:2001-y:2001-d:2001-10-01-p:./2001/iss40/lastpage.htm]