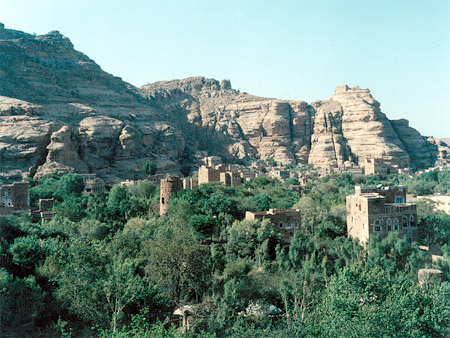 Trekking &Walking in Yemen: A Guidebook [Archives:2001/28/Last Page]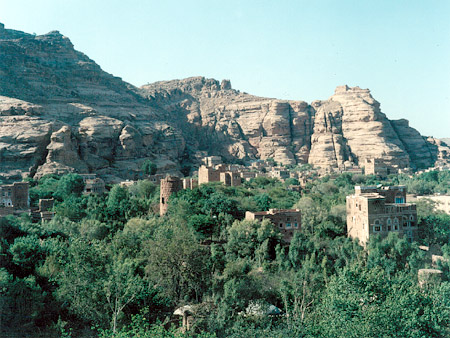 Trekking and Walking in Yemen' is the title of the first of ever guide book of its kind about Yemen expected to be released about two years later. Pavel Kumpan, its author, runs Geos, a travel agency in his country, Czech Republic. He has visited Yemen so many times during which he gathered expensive experience in walking and trekking along the Yemeni mountains.
He first came to Yemen in 1995 on a 5-week tour. He was stunned by the wild magnificent mountain scenery with beautiful architecture of the Yemeni villages built at the top of mountains. "I was very impressed by the mountains and the countryside," he said. "I decided to include Yemen in the program of my travel agency." Next year he came back here with a group of tourists. One of the activities in their program was trekking in the Maswar area. "I discovered that Yemen possesses a great potential for trekking," he said.
The enthusiasm demonstrated by the other members of the tour motivated him to organize more trips to Yemen. He started to collect information for the intended guide book about trekking and walking in the Yemeni mountains. For this purpose he has kept coming to Yemen twice a year. In the last 6 years he came here about 12 times during which he went through almost all Yemeni mountains from Djabal Haraz in Dhamar to Atturbah region in the south.
The proposed Guide book will be divided into two or three parts. The first part will be devoted to general information about the Yemeni mountains and the natural landscapes. The next part will include journeys to the most interesting mountains. There will also be information about the history and literature, some proposed roads for trekkers, information on possibilities of accommodation, safety conditions, advice to foreigners about how to behave in the Yemeni mountains, etc. Pavel comments: "I want to find English publishers for this book and I would like to ensure a good world-wide distribution of it. For this reason I have to look for a good partner. I have to get an enthusiastic publisher. This may not be an easy task for tourism in Yemen has been deteriorating during the last few years."
When asked about the extent of security of tourists in the mountains he said that the most interesting and most beautiful Yemeni mountains the region are in the west of Sana'a. These include Haraz, Maswar, Djabal Lukham, Djabal Bora, etc., which are quite safe. As far as I know there has been no kidnapping incident in any of these areas. People there have been very friendly. They always offer us generous hospitality. So, I think that the problem of kidnapping is mainly in other regions. In fact, these days I feel more safe in mountains than in Sana'a," he added.
Pavel hopes to get some support from the Yemeni side. He thinks that walking and trekking in mountains have huge prospects to attract tourists here and that Yemen's mountains are among the most suitable ones for this kind of activity. As such it should be supported by Yemen.
"If this kind of tourism is to be promoted it is necessary first to publish some information, maps of the most popular areas for trekking, guide books and some advertisements. This kind of tourism has great potential in the areas visited. The local people will also benefit. Two kinds of tourists will like to come to Yemen to take advantages of this activity. The first kind will hire cars and will provide themselves with water, food, tents, etc. The other kind of tourists will arrange guides to walk in the mountains. Yemen has really a great treasure in these mountain villages specially in some areas like Haraz, Djabal Bora, or in Shaharah. The villages are really in such a great harmony," he concluded.
As far as Geos travel agency is concerned it was established in 1990. Its first tour of Yemen was organized in 1995. It will be organizing a new tour for a group of Check tourists in the forthcoming September.
——
[archive-e:28-v:2001-y:2001-d:2001-07-09-p:./2001/iss28/lastpage.htm]