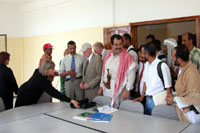 U.S. Ambassador lays the foundation stone to the Yemen Civilization Museum in Marib [Archives:2004/757/Community]
The Ambassador of the United States of America H.E. Edmund Hull, with the accompaniment of Deputy of Marib Governor, laid the foundation stone to the Yemen Civilization Museum, which will be built and equipped with the assistant of the US government. The estimated cost of the museum is US$3 million.
The Ambassador presented Dr. Abdul Majeed Al-Khaledi, Undersecretary of the Ministry of Health for technical and planning affairs, with the first batch of equipment for "The President" Hospital worth US$5.7 million.
The US Ambassador also presented the sum of US$40,000 to 36 farmers in Marib who are working in the plantation and growing of fruits and vegetables with the aim of improving the irrigation methods and extending pipes from water wells to arable lands.
The US Ambassador with the accompaniment of Undersecretary of Marib Governorate Mr. Ali Mohamed Al-Fatemi and Dr. Abdul Majeed Al-Khaledi, held a press conference at "Belguis Hotel" to reply to the questions of some journalists.
In replying to Yemen Times' question about what has been circulating about the interference of the US and other parties at Saddah Governorate and the rebellion of Al-Hothi, the Ambassador said, "I think that Al-Hothi case is a Yemeni internal matter and we do not have any specific information about foreign interference or about Al-Hothi's relations with foreign parties. But I think it is very important that the Yemeni government control all parts of Yemen and protect the unity of Yemen".
Dr. Abdul Majeed Al-Khaledi, on his part reaffirmed commitments to equip the hospital with the modern equipment and to operate it with either Yemeni qualified cadre or to hire foreign medial staff until a Yemeni medical cadre can take their place. He also confirmed that the Ministry of Health bore the responsibility to take care and to provide maintenance to the medical equipment received from the US Government.
——
[archive-e:757-v:13-y:2004-d:2004-07-22-p:community]