US embassy funds new projects [Archives:2003/669/Reportage]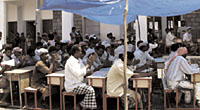 Sanaa, September 17 – In a press release sent to the Yemen Times, the United States Embassy in Sana'a pointed out that it has recently awarded twelve Democracy Small Grants to various Non-Governmental Organizations (NGOs) in Yemen for 2003. "Public Affairs Officer, John Balian and embassy personnel from the Public Affairs Section traveled to various parts of Yemen to attend opening ceremonies for programs funded by the Democracy Small Grant program." the report said.
According to the embassy, the program started in 2000 and has been gaining continuing success. "It has supported more than 20 NGOs and has been able to reach less developed and remote governorates such as Marib, Haja, Dhamar, Hodeida, and Saada, as well as urban areas such as Sana'a, Aden, and Taiz." the report added.
Furthermore, the US embassy said it would fund numerous projects this year. Those projects would be implemented throughout Yemen. The projects will be carried out with a number of NGOs, welfare organizations, and other establishments. Among the projects to be conducted is a program to address issues such as: problems of NGOs in rural areas, girls' education, the phenomenon of early marriage, the handicapped and their exclusion from school, child labor, youth participation in the society, and other issues.
"Reading and Children Rights Education," conducted by the Yemen Children Right Association in Aden, will set up a children's library in the NGO's headquarters in Aden. Children will have access to the library, which will include children's stories, and educational games and books. The library will also offer activities and competitions, all focusing on children rights issues. The Library's program will include a one-day child rights awareness workshop for educators and social workers at schools.
It is worth noting that US assistance to Yemen in social, educational, and economic activities has increased substantially lately and has been targeting poor regions throughout the country. It is hoped that the US government would increase its economic assistance further and focus on developmental projects such as implementing sustainable water projects, building schools, helping in the reform of the judicial system, providing consultation concerning administrative and financial reforms, and carrying out projects in similar vital fields.
——
[archive-e:669-v:13-y:2003-d:2003-09-18-p:report]