US Training for Yemeni Special Forces [Archives:2001/44/Front Page]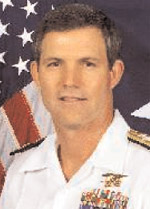 Rear Admiral Albert M.Calland, Commander of Special Operations for the United States Central Command, left Sana'a following a 3-day visit during which he met with Colonel Ahmed Ali Abdula Saleh, Commander-in-Chief of the Yemeni Special Forces. During his meeting with Yemeni officials, Albert M.Calland discussed means of enhancing security cooperation between the two countries.
On the other hand, well-informed sources told the Yemen Times that the visit of the U.S. official came within the framework of military cooperation program to strengthen the Yemeni Special Forces to be able to fight terrorism and to track down elements presumed by the U.S. to have links with terrorist groups.
The same sources added that U.S. authorities expressed their satisfaction over the cooperation of the Yemeni authorities in providing available information about some Islamic hard-liners living in Yemen and presumed to have links with al-Qaeda. Thus, the USA will provide Yemen with military and financial assistance as part of an extensive plan to contain terrorism.
News reports say that the United States has expressed its willingness to train the newly-created Special Forces, support the campaign to track down Islamic extremists, drain the funding sources of these elements through putting all the returnees from Afghanistan under surveillance, and eradicating the breeding grounds of religious extremism by containing many of its elements and customizing textbooks.
According to many sources, the U.S. campaign against the so-called terrorism doesn't necessarily mean carrying out military strikes at certain sites in some countries, but rather requesting security, intellectual and political measures against the elements accused of supporting terrorism, Yemen being a case in point.
Furthermore, the Yemeni government is training moderate mosque preachers to replace the presumed hard-liner mosques preachers. The Minster of Interior, Dr. Rashad al-Alemi held a lecture in this respect, which was attended by a number of mosque preachers and security personnel. Similarly, another sources told the Yemen Times that the scope of the U.S.-Yemeni cooperation in the security field has been more than what had been proclaimed by the two sides. The visit of Mr. Albert M.Calland came to further enhance the existing military cooperation between Yemen and the United States and to turn a new page of cooperation, as some observers say, particularly after Yemen provided facilities for the U.S. on issues presumed controversial in the past.
——
[archive-e:44-v:2001-y:2001-d:2001-10-22-p:./2001/iss44/front.htm]