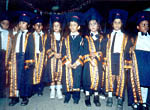 Valedictory Ceremony at the Modern Language School, Hodeidah [Archives:2003/641/Education]
Reported by,
Mr. ARIF AL-AHDAL
Demonstrator, Edu. College,
Hodeidah University
The Modern Language School is a premier institution of academic excellence in Hodeidah. This temple of learning is equipped with well-qualified teachers and modern amenities. It has established a healthy tradition of observing a function at the end of every academic year to honor the meritorious students. The colorful valedictory function this year was held on Wednesday 4/6/2003 with enthusiastic fervor, thanks to the organizers Miss. Habeeba Banani, Miss.Ahlam Al-Qadhi and Mrs.Nora Heba. The President of Hodeidah University Prof. Qassim Berihe , Dr. Ibraheem Omar Hugari, Dean, Education College, a great number of teachers, students and their relatives among others graced this occasion.
Compered by Miss. Furat Qahtan of class 12 and Miss.Sara Ali Abdul Samad of class 8, it began with a recitation of some verses from the Holy Quraan rendered by Mr.Moh'd Radman of class 9.This was followed by an anthem prepared by the budding students of class 6. On behalf of the graduate students of class 12 , Miss Zahra Haleem delivered a speech on the feelings and impressions of her classmates at the end of their journey, and expressed their deep sense of indebtedness and gratitude to all their teachers , who helped them shape up as worthy citizens of the country and the architects of a prosperous tomorrow. Miss. Nada Al-Badawi and Miss. Sabah Subhi of class 10 and Mr. Ahmed Abdullah & Miss. Sahar Mahyoob presented a spectrum of their experience and vision on behalf of students of class 9.
On behalf of the teachers, Mr. Arif Ahmed Al-Ahdal, ventilated his love and true concern for his students, through an emotionally charged poem which was recited by Miss. Donia A. Thabet of class 10. Then a group of students presented a floral tribute to Mrs. Maha Banani as a mark of their love and respect towards her. Dr. Ibraheem Hugari, Dr. Mohammed Al-Motasim and Mr. Al-Taieb then honored the students on their brilliant performance through hardwork and devotion to studies.
At the end of the occasion , everybody present expressed his admiration for the ceremony, wishing the Modern Language School all the progress and more success in the years to come." It was really remarkable ", said one of the parents. Another added with a touch of deep emotion: "We are very proud of this academic institution ". The function drew to a close with the flicker of a smile of satisfaction on the lips of everyone present on the occasion.
——
[archive-e:641-v:13-y:2003-d:2003-06-12-p:education]