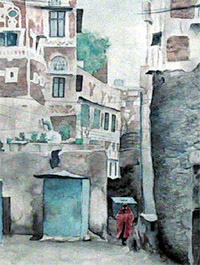 Views of Sanaa [Archives:2001/51/Culture]
Nada Mansour Al-Shamiri
Yemen Times
It is surprising! said Mr. Hakeem al-Akel, an outstanding Yemeni artist, describing the Views of Sanaa exhibition by Hani Ahmad al-Massrafi, Fahmi Ali al-Hababi, And Abdulwasee Mohammed al-Ulofi, that took place on December 3 at the French Culture Center (FCC.)
Inauguration of the exhibition was followed by a welcoming speech by Mr. Arnaud Playsance, the General Secretary of the Center.
The exhibition combined realism, expressionism and designing. Hani is talented and has creative fingers, said al-Akel. He uses his imagination to reflect his surroundings. Abdulwasee is courageous in using colors. Fahmi was succeeded in the idea he chose for the exhibition. Depicting the folklore dances, he tried to create a movement inside the conflicting colors.
Im sure they will get brilliant artistic future, he added. Al-Taib al-Haj, a Sudanese artist spoke highly of the young artists saying their art is elegant and that they together form a beautiful symphony.
Jamal Abdullah al-Shami, Chairman of Monetary and Inspection at the Plastic Artists Syndicate (PAS), said the works show new styles that heralds good future for the participants. Thanking the role of the (FCC) in introducing artists to the society, he expressed hopes that the Ministry of Culture will be also considerate of this kind of art. Unfortunately it seems as if the Ministry of Culture does not have a room for plastic arts on its agenda, he said.
The three have their different styles, said Amani al-Baba, an artist, commenting on the paintings. Abdulwasee is a philosopher. He paints as if he is narrating philosophical stories. He shows the relations between man and God, oneself, world and one another. Man is his main idea that he tries show in all of his paintings, symbolizing different thoughts. Hani is more realistic. His interest in aestheticism, colors and light make him tender. In his works of doors he mixes symbolism with realism. Fahmi is more interested in tradition and heritage. His colors are optimistic and vivid, she added.
Coming close to the artists themselves, I found that they are still in their twenties.
Abdulwasee Mohammed al-Ulofi, 27 years old, a member of the Plastic Arts Syndicate, said his works are meant for all segments of people. Art is our means to express ourselves. And it is evaluated by the impression it leaves inside its spectators, he said.
Fahmi Ali al-Hababi, 24 years old, Faculty of Information, paints with happy light colors that should have made him optimistic, said: Ive chosen the folklore dance as the main idea in my works for this exhibition. It is something that people do not see much in paintings.
Hani Ahmed al-Massrafi, 22 years old, Faculty of languages, French Department said: My works reflect the society I belong to, and I always search for new ideas.
What Do They Paint and for Whom?
Hani says he paints what he feels inside of him, Fahmi paints what he is affected by and for Abdulwasee, art is a means to express his emotions and inner feelings.
A friendly chat with the three young artists, was a good chance for me to know how much of 
them are artists. 70% of me is an artist, and I wish that the realistic man in me could get bigger than 30%, said Fahmi. We deal with people in a very simple and humble way. But of course, sometimes I am forced to be more realistic with people whenever the situation requires me to be so, he added. Abdulwasee said: The human in me controls me with the help of the artist. The artist moves through different stages until he creates a human being of high values and sense of esthetics.
Finally, I asked them about their wishes in the near future they all expressed hopes that the Ministry of Culture will pay attention to and take care of young artists.
——
[archive-e:51-v:2001-y:2001-d:2001-12-17-p:./2001/iss51/culture.htm]