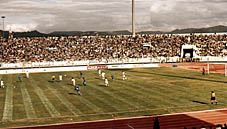 Wahda vs Hilal Next Friday Asian Giants To Host Yemeni Eagles [Archives:1998/42/Sports]
The Wahda of Sanaa football team – "Yemeni Eagles" – has started training at a special camp. The players are thoroughly preparing themselves for the upcoming match with the Saudi Hilal team, due to be held on Friday, October 22 in Riyadh. It is part of the Asian Club Champions tournament. Their first-leg match, held in Sanaa on October 9, ended with a two-score draw.
There are currently 24 Yemeni players being trained by coach Amin Al-Sanini and his assistant Mohammed Al-Faqih. The Wahda Club management, headed by chairman Noman Al-Dowaid, is making every effort to ensure the team's success. Differences in weather and being an away team are all taken into consideration.
Four of Wahda's core players – Anwar Al-Sorori, Hani Abdulrahman, Shihab Al-Kohali and Saeed Al-Kholaidi – are suffering from various injuries. Dr. Salahuddin, the team's assistant medical officer, has indicated that the players are undergoing physiotherapy.
The Hilal Club has dismissed its German coach, Reiter Holmann, who was employed only four months ago, because of the 2-2 draw – considered a mediocre result. Also, Hilal was just about able to scrape through the first round of matches, following its defeat of the Kuwaiti Salmiya 3-2. They drew nil-nil previously in Kuwait. Holmann had trained the Ahli of Egypt for three successive seasons. The Saudi Khalil Al-Zyyati is now the Saudi team's coach. The German coach had exhibited visible irritation following the 2-2 result with the Wahda of Sanaa. It was as if he knew that he was going to be sacked.
——
[archive-e:42-v:1998-y:1998-d:1998-10-19-p:./1998/iss42/sports.htm]