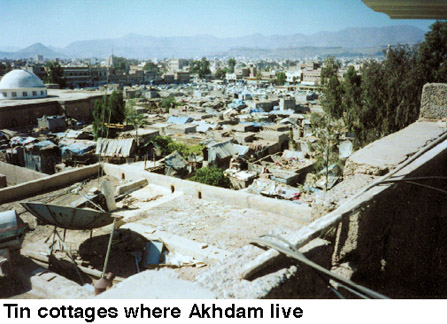 War against Akhdam at Bab Al-Yemen [Archives:2001/47/Reportage]
Jalal Al-Sharabi
Yemen Times
The violent actions made against Akhdam (the black people who live near Bab Al-Yemen) by the security police are still taking place in an attempt to force them to leave the neighborhood and construct a government building. Their living conditions are tragic and their harassment represents a blatant infringement on human rights granted by the constitution and divine jurisprudence. We want this problem to be known by the Minister of Human Rights, Dr. Waheeba Farae, and the diverse human rights organizations present in Yemen.
For a long time and up to this moment, Akhdam have been known as the black people in Yemen, particularly those who move from one place to another searching for shelter. Therefore, they are restricted to inferior jobs, such as street-cleaners and shoe-makers. Akhdam have diverse rituals, but their permanent ritual is misery, torture and slavery. They work like donkeys and they have a wretched life in Yemeni society.
Three Akhdam were seriously injured by the police. At the same time, two women miscarried due to the horrible terror performed by the policemen. A source in the Human Rights Organization said that what has been practiced against Akhdam constitutes a flagrant infringement of human rights, and our government must reconsider these agreements as an international commitments.
The Sheikh of Akhdam in Bab Al-Yemen, Shuaee, said more than 5000 people and around 50 families reside in the place, distributed in different houses, such as slums mud houses, run-down parts and other houses made from thatches. He demanded that the Minister of Human Rights interfere to stop such acts since they are Yemeni citizens. "Why do such infringements befall us for the simplest human criteria?" he added. YT has visited the site and discussed this issue with them for one hour. Some photographs were taken for the victims to give to the human rights organizations and the concerned bodies to save the families from torture.
This lower class works in different inferior places, and they are exploited by the authorities and the political parties during elections to gain their votes for the benefit of a specific party. Now the area has been fenced off by the police. Sources in the Secretariat said that although the Akhdam didn't refuse to be leave the place, the possibility of compensating them is a weak promise; their friends were also promised to be compensated, but when they left the place they found nothing but streets to reside in and ask for help. One of them, Aesh, said that he lost more than his livestock due to the recent incidents which occurred last Saturday from 4 a.m. until 8 p.m. This critical issue should be treated rationally, and a sense of respecting the freedoms of human rights should be carefully considered. Above all, we are in dire need of national action and strong political will to save this inferior class, the class of Akhdam.
——
[archive-e:47-v:2001-y:2001-d:2001-11-19-p:./2001/iss47/report.htm]