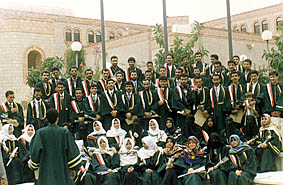 What Future… Our Students? [Archives:1998/30/Culture]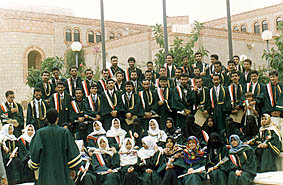 Universities are considered to be power houses providing students with energy and creativity. They build minds that will undertake the responsibility of development for a better tomorrow. Unfortunately, our universities are not doing their job properly. Here in this article, I would like to focus on some of the difficulties and problems hindering our students and weakening their spirits. Let me now enumerate some of these problems.
Lectures
Secondary-school graduates feel really shocked and frustrated when joining university. This is because their dream castles come to ashes. They don't find any difference between the school and university. They become like an antenna: receptive rather than productive. The university teachers have made the students very unproductive because they just deliver their lectures, and the role of the student is to reproduce them in the exams. In this way we are producing parrots rather than scholars.
The university teacher should have the faculty of creating and researching new ideas in the arena of knowledge and science exposing his students to this world of innovation. That is, he shouldn't cling to outdated methods of teaching. Universities are meant to produce scholars and researchers. But because our teachers have become bored with teaching, they don't try to keep themselves abreast with the world. They just copy hand-outs (Malazem) from books, asking students to buy them. The exams don't measure the student's creativity but his ability to memorize the hand-outs and nothing more. This is actually one of the reasons behind the breakdown of our university education. This very way of teaching makes our students slothful and dependent.
Libraries & Books
Generally speaking, we notice that reading is pretty rare among the general people. The reason is the little amount of books available and the low income of the people. But it is quite necessary for the university students. But what to read and where?
The library of Sanaa University, for instance, is full of books but most of them are very old, not in accordance with the new issues and developments occurring in the world. Another point is that the books written by Yemenis are very few. Life is stagnant and people are sleeping. Both of our teachers and students are unproductive.
If you visit the library of Sanaa University, you will find the titles of many books but a few books. Where are all the books? They are lost! This irresponsibility has to be stopped. Some of our libraries are not kept in order and become like fish markets, especially during the exams. The library of Sana'a University is very small and unable to provide facilities for a good number of readers. Light is also another problem making the atmosphere improper for reading.
Researches
We find that the researches the students are asked to do are traditional in their approach and lacking field work. In other words, the teacher himself becomes the sole reference of the his students. The students are asked to do research only at the end of their academic study. That is, they don't have any experience in working out such researches. So, it becomes very difficult for them to do such a job.
Another thing is that most of the research the students are asked to does not deal with new issues. But they are based on researches made by senior students. The students just copy them and give them to the teachers. Moreover, the students are often given one topic to work on, which restricts the students' abilities. This is actually a pointer of the teachers inability to supervise many students working on different topics.
Unfortunately, some holders of Ph.D. degrees don't know the essential principles of researching. This becomes very clear when asked by their students questions of how to proceed in their research. They, moreover, ask the students to make plans of their research. Some students work very hard, but they get very shocked to see their teachers disheartening them and underestimating their abilities. Indeed, they try to make them a laughing stock either inside or outside the class. This happened to me when I was a student.
University Activities
A few years back, Sanaa University was full of activities that are very important to explore the students' dormant faculties and skills. There used to be societies in every department elected by students. The role of these societies was to carry out some activities like issuing bulletins, organizing graduation ceremonies, etc. They also used to organize sports competitions between departments and colleges like football, basketball, etc.
The Gawalleh societies used to do a lot of things to the students. They protected order in the university and organized trips to different places. During these trips students learnt many skills like cooking, orating, etc. Artistic exhibitions and summer camping gathering students of different colleges from different governorates were organized by these societies.
The students found in these activities a good way for exploiting their energies. But now everything is upside-down. The university has canceled all these types of curricular and extra-curricular activities. There are no graduation parties and games competitions. Indeed, university life has become dull.
Male & Female University Students
Of course, when students move from schools to universities, they expect a big difference between the two institutions. They think that they have moved into another world where they can find open-minded and highly educated people to deal with.
But because we are very conservative in Yemen, we find that we are not able to break the outdated social conventions that draw us backward. The girl is looked at as an alien creature. She is brought up to be an obedient person and never has the right to express herself. Everything she does, even her voice, is shameful, anti-traditional and against the social norms.
So, when such a kind of people go to the university, they become entirely different. Some girls feel very afraid of their male friends and may spend the whole academic years without having the courage to break this silence. This is actually due to the fossilized conventions she has been taught.
The other group of female students go to the extreme in their open-mindedness. They begin to disclose their repressed feelings and emotions thinking that in the university they are free to do whatever they like. They have found in the university their salvation. Their behavior is a reaction against the way they have been brought up. But this is not right for it leaves a very bad impression about every university girl. But there are some girls who do really understand what a university is. It is for them an institution where people can meet and share their views openly. They talk with their male colleagues and discuss their problems together. They try their best to educate themselves and participate in all types of activities. But they respect our conventions. The same thing is applied to male university students.
The university has to play a very important role in creating a healthy atmosphere where students come in contact with each other. It has also to bring them together in some activities where they can build good relationships based on cooperation and friendship. This is because the university can build these mentalities and frame them the way it serves the interest of the country. It should produce creative and productive people. The purpose should be to produce scholars rather than certificate holders.
Teachers & Students
It is supposed that the relationship between the teacher and the student should be based on mutual understanding and cooperation. But it is the reverse in our country. The teacher sometimes comes to deliver his lecture and goes home. Some teachers feel unhappy to see some of their students brilliant and hardworking. The reason maybe their lack of confidence.
Appointing Bright Students
Some students work very hard in their academic study in order to achieve their goals in life either inside or outside university. Some students want to be appointed as demonstrators. This academic post is, in my opinion, a real reward for hardworking students.
The university law states that the first student in his batch should be appointed as a demonstrator directly. But what happens in our universities is irresponsible. Demonstrators are very often appointed on the basis of nepotism, favoritism and the power of money. In other words, if you do not know VIPs like businessmen, military officials, deans and rectors, and the like, you will get lost even if you are the best student in the world. Can you imagine this farce happening in our universities.
In this way, unqualified people are brought to the most important institution in the country. What would be the result do you think ? Of course, the loss of our future generations. It is actually an unpardonable crime, isn't it ?
By: Sana Qannan,
Sanaa.
——
[archive-e:30-v:1998-y:1998-d:1998-07-27-p:./1998/iss30/culture.htm]