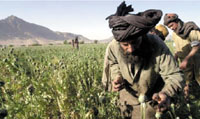 Where poppies grow row by rowAfghanistan still land of opium [Archives:2004/794/Reportage]
By Peter Willems
Yemen Times Staff
The amount of land used to grow poppies in Afghanistan skyrocketed this year, according to a United Nations report released last week.
According to the Afghanistan Opium Survey of 2004 by the UN Office on Drugs and Crime (UNODC), land for poppy cultivation reached 131,000 hectares in 2004, up 64% from last year and a dramatic increase from 8,000 hectares in 2001.
The report said opium poppies are now being planted in each of the country's 32 provinces and 87% of the world's supply comes from Afghanistan. Drought and disease limited the production of opium as harvesting went up 17% from 2003 which produced 4,200 metric tons.
Through the use of a satellite imaging system, the US government came out with more startling results. Its report said that poppies were cultivated in 206,700 hectares this year.
The figures on opium production came after Hamid Karzai was elected last month as Afghanistan's first president since the Taliban regime was ousted in late 2001. In his acceptance speech, Karzai vowed to eliminate drug trafficking. "There will definitely, definitely not be any drug thing in Afghanistan. We're going to be dedicated, strong in working against that," said Karzai.
But Karzai's commitment to tackle the drug business came at a time when opium production is seen as a threat to Afghanistan's security.
"In Afghanistan, drugs are now a clear and present danger," said Antonio Maria Costa, Executive Director of UNODC. "The fear that Afghanistan might degenerate into a narco-state is slowly becoming a reality as corruption in the public sector, the die-hard ambition of local warlords, and the complicity of local investors are becoming a factor in Afghan life."
The Afghanistan government has declared that opium production has become its number one concern. "Eradicating poppy cultivation is on the top of our agenda," said Lutfullah Mashal, Special Assistant to the Minister of Interior. "Our eradication task force is ready, and the goal is to eradicate 90% of poppies in the next 12 months."
Last week, the US government stepped in to implement a more aggressive plan: Drug enforcement agencies asked Congress for $780 million to tackle the drug business. The new US effort will include increasing the eradication of poppies, arresting and prosecuting traffickers, and providing alternative crops for farmers.
But the fight against opium production will face challenges. Farmers have complained that they have not received assistance in finding an alternative crop, and if there is help, some of them might be reluctant. Even though the price of a kilogram of opium has fallen recently – from $283 to $92 per kilo – the income from opium for farmers is still 12 times more than what they can get from growing wheat.
Another concern is how the Afghanistan government and security forces will be able to handle conflicts if they arise in the eradication process. The growth of the drug trade may generate resistance. The UNODC report estimates that 10% of the country's population, or 2.3 million Afghanis, are now involved in the drug business. Opium production pulls in around $2.8 billion annually and takes up 60% of the nation's gross domestic product. "Opium is the main engine for economic growth and the strongest bond among previously quarrelsome people," said the report.
The newly formed Afghan National Army only has 17,000 soldiers, and under US military training, it is not expected to be 70,000 strong until 2007. US troops, numbering 18,000, are preoccupied with the Taliban in the south while 9,000 NATO-led peacekeeping forces mostly operate in the capital.
Warlords who took part in the toppling of the Taliban have been holding onto their fiefdoms while being equipped with armed militias. Analysts have expressed concern that those involved in the profitable trade probably include warlords, provincial governors, and police and army officials. The UNODC has warned that organized crime involved in the drug trade has become well established in the last few years. Costa said that Afghanistan, once only a supplier of the raw material, now has enough labs to convert three-quarters of its opium into heroin.
"Drug lords might aim at destabilizing the security of Afghanistan to try and continue their business," said Syed Alamudin Atheer, Deputy Director of Afghanistan's Counter Narcotics Directorate. "There might be terrorist activities related to drugs."
Although Afghanistan's counter-narcotics police were able to destroy a number of poppy fields this year, until now no drug lords have been arrested and taken to court. The judicial system is still in the process of being developed, and according to a UNODC official, it will take time for it to be able to handle cases related to the drug business.
Unlike the Taliban regime that was able to force opium production to diminish near the end of its rule, the new government and international assistance will face many obstacles to win the war on drugs in Afghanistan.
"It will be a long and difficult process," said Costa. "It cannot be done ruthlessly as it was done by the Taliban, nor with mindless disregard for the country's poverty."
——
[archive-e:794-v:13-y:2004-d:2004-11-29-p:report]