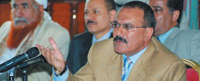 With top Salafi leader Al-Zindani at his sideSaleh calls for recruiting tribesmen to fight Houthis [Archives:2008/1171/Front Page]
By: Mohammed Bin Sallam
SA'ADA, July 9 ) During a meeting with tribal sheikhs and leaders from Sa'ada governorate, President Ali Abdullah Saleh called for recruiting pro-government tribesmen to back the state in its fight against Houthi supporters, expressing his confidence that prominent sheikhs and social figures in Sa'ada will stand with the government in this war.
Several tribal chiefs suggested Saleh should return to the Doha-brokered ceasefire agreement, which both sides signed this past February, in order to cease bloodshed and protect citizens' property from destruction.
However, other tribal sheikhs were enraged by the government's efforts to recruit thousands of Hashid tribesmen to invade Sa'ada and devastate its infrastructure, noting that this may trigger animosity between tribes. "Fomenting sedition this way may lead to revenge killings lasting for centuries to come," they said.
Informed sources last week reported that the Yemeni government is expending urgent efforts to recruit more than 10,000 citizens under the name of a "Popular Army," revealing that several government parties have pledged future support and a warm reception for the new recruits. However, the sources did not specify those due to fund establishing this army.
Efforts to establish a popular army face several obstacles such as raising tribal disputes over command of this would-be army, particularly as the Hashid tribe wants to exclude the Bakil tribe from the new army's command.
Sheikh Hussein Bin Abdullah Al-Ahmar of the Hashid tribe, to which President Saleh belongs, has been stepping up his efforts for the past two weeks with the intention of assuming the role of the army's commander.
Sa'ada security situation not good
Regarding the security situation in the war-torn governorate, tribal sources confirm that bloody confrontations continue in numerous Sa'ada areas, most notably in the main Houthi stronghold of Mirran district, as well as in Haidan, Baqem and Harf Sifyan districts.
The same sources note that both sides have incurred heavy losses in the clashes, adding that the bodies of the dead had been buried over the past few hours. "Neither side made notable progress on the battlefield," the sources pointed out, adding that the Yemeni army, backed by Salafis and jihadists led by Sheikh Abdulmajid Al-Zindani and Tareq Al-Fadhili, is planning a new military campaign against armed Houthi loyalists.
In a statement, Houthis maintain that government troops could not have advanced toward their strategic positions in Mirran district, further denying government claims that its troops had seized control of Khamis Mirran area.
Informed sources in Amran governorate's Harf Sifyan district say Houthis still are entrenching in the areas of Ayan, Majzaa and Sahbal in Harf Sifyan, while government troops advance toward other remote areas.
The same sources went on to say that Yemeni army troops invaded Wasit area, where Houthis have been entrenching since Monday, adding that the troops surround Houthi gunmen from all directions following fierce armed clashes that killed dozens and wounded others on both sides.
Further, the sources ascertain that Houthi loyalists on Monday seized a military caravan in Harf Sifyan while it was ferrying arms and ammunition to military troops in Sa'ada. They report that the caravan was attempting to use an unpaved road known to be used by smugglers following the blocking of the Sa'ada-Amran Highway.
Because the caravan was on the unpaved smuggling road, this encouraged Houthi gunmen to seize it, however, they allowed the troops manning it to return home.
Other Houthi gunmen still are besieging a military brigade in Barakan area, which the army took over on Saturday following fierce clashes that killed or wounded dozens on both sides and destroyed numerous military tanks and vehicles.
According to independent and party-affiliated news web sites, deadly battles occurred Monday in the areas of Hamma and Wadi Eyan in Harf Sifyan, during which the army, backed by area tribesmen, employed tanks and heavy weaponry in the fight against Houthis.
EC assistance
The European Commission allocated $1 million in humanitarian assistance to residents affected by the lengthy Sa'ada fighting. An EC press release distributed to various media outlets explained that its assistance targets injured and displaced civilians as a result of the destructive fighting in the area.
According to the press release, the clashes between government troops and Houthi loyalists have displaced 77,000 citizens, thereby increasing the demand for food, water and shelter.
The EC assistance includes emergency food, drinking water, emergency sanitation grids, shelter and first aid kits, which may be sufficient to meet the demands of 49,000 displaced residents.
——
[archive-e:1171-v:16-y:2008-d:2008-07-10-p:front]