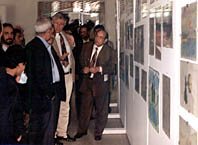 "Women Feed the World" Exhibition [Archives:1998/42/Business & Economy]
It was organized to coincide with the World Food Day – October 16th. That was the day a number of senior officials flocked to the Yemeni Cultural Center in Sanaa in a show of support for the "Women Feed the World" activities.
Several rural communities were represented by women who brought samples of their food products. The exhibition was more like a fair, with hundreds of visitors of all kinds.
The event was also attended by Mr. Abdulqadir Ba-Jammal, Minister of Foreign Affairs; Mr. Abdulmalik Mansour, Minister of Culture and Ahmed Salim Al-Jabali, Minister of Agriculture.
Claire Goethals who is the mastermind behind the Halaqa event was beaming. "We want to show the positive economic contribution to the economy and food security," she said.
'The theme of Women Feed the World was selected to pay tribute to the significant role played by women in agriculture, fisheries and forestry and their enormous contribution to household and national food security,' said Dr. Jacques Diouf, Director-General of the UN Food and Agriculture Organization (FAO).
Other organizers, in addition to Halaqa, included the Rural Women Development Directorate and FAO.
The festivities included theater activities, film shows, children activities, music and dance. The theater activities were mostly performed by school students.
Also, there was an exhibition of paintings depicting women in rural areas and their role in feeding Yemen.
"We aim at showing the role of women, in general, and women in rural areas, in particular, in producing food for society," said the festival's coordination official at the Dutch Embassy.
The Agriculture Minister and Mr. Sayid Mahdi, FAO representative in Sanaa also held a press conference on the occasion.
Bassam Al-Saqqaf, YT.
——
[archive-e:42-v:1998-y:1998-d:1998-10-19-p:./1998/iss42/b&e.htm]