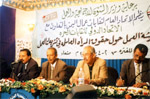 Workshop on Working Women's Rights [Archives:2001/28/Local News]
Yasser M. Ahmad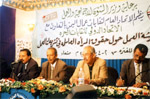 The Ministry of Social Affairs and Labor, in collaboration with the ICFTU concluded on June 4 a 3-day workshop on working women's rights.
"The workshop is a preclude to a project to enhance activities of syndicates in the Arab countries in general, and in Yemen in particular," said Mr. Fadhl Al-Aqel, supervisor of the workshop.
The project includes a number of training courses on safety and protector of laborers' health in Sana'a and Aden. Mr. Kheiraddin Abu Salah Office Manager of World Union of Frees Syndicates, Amman, applauded the commitment of the union to encourage working women in Yemen. He disclosed the future plans of the organization to hold more such training courses for them.
A number of working papers were also presented during the workshop dealing with Yemeni women's contribution to he economic and social development, safeguarding women's rights, etc.
The workshop came out with a number of recommendations pertaining to enhancing activities of syndicates to defend people's rights, following implementation of international agreements concerning working women, etc.
——
[archive-e:28-v:2001-y:2001-d:2001-07-09-p:./2001/iss28/ln.htm]