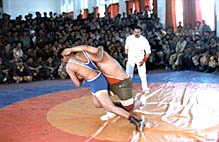 Wrestling Training Course for Coaches [Archives:1998/32/Sports]
A training course for coaches of wrestling was opened last Saturday at the Olympic Center. This course is organized by the Yemeni Olympic Committee and the Yemeni Wrestling Association. It is sponsored and supported by the International Olympic Solidarity. It will last from August 8th to 19th, 1998.
An international Iraqi wrestling expert, Mr. Marwan Abood will give lectures in this course. Twenty-five beginner wrestlers from Sanaa, Taiz, Aden, Hodeida, Ibb, the Police Sport Association, the Military Sport Association, and The Yemeni Universities Sport Association, will participate in this course.
——
[archive-e:32-v:1998-y:1998-d:1998-08-10-p:./1998/iss32/sports.htm]