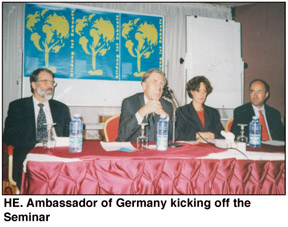 WUS & German House Conclude 'Methods on Project Planning' [Archives:2001/44/Local News]
In cooperation with the German House of Sana'a, the World Universities Service (WUS) from Germany organized a seminar titled 'Methods on Project Planning' from October 24th until 26th at the Haddah Hotel in Sana'a. The 3-day seminar was kicked off by HE. the ambassador of Germany to Yemen, delivering a speech welcoming the participants and thanking them for coming. The seminar included other speeches, lectures on experiences regarding project work, cooperation in other countries, workshops, etc. 
About 120 Germany alumna were invited to take part in the event. 
Ms. Labs Judith, President of the German House for Cooperation and Culture, said the goal of the seminar was to help participants develop their ability to make accurate studies on projects they intend to carry out in order to generate support from German organizations. "Discussions were fruitful. Participants expressed their views openly, and they came out with new ideas about how to manage their own projects," she said, adding that she was impressed by the willingness of participants to attend even on Friday. 
Mr. Abdulwarith Abdu Ali, participant, said the event showed how distinguished graduates 
and trainees of Germany are. "Germany is the only country that cares about its graduates and trainees even when they are in their respective countries. We are still trained by them. We receive specialized books and references on a monthly basis," he added. 
Participants expressed their appreciation to the German Government, the German Ambassador, and the German House for their continued support of alumni. 
The next conference will be organized in Aden in October 2002. Ms. Labs said it would host a greater number of participants. 
——
[archive-e:44-v:2001-y:2001-d:2001-10-22-p:./2001/iss44/ln.htm]