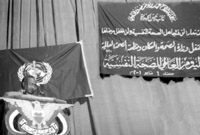 Yemen Celebrates the International Health Day [Archives:2001/21/Health]
In cooperation with the World Health Organization, the Public Ministry of Health celebrated on Sunday 6 May 2001 the Mental Health Day at the Yemeni Cultural Center in Sana'a. Dr. Abdulnasser Al-Munibari, Minister of Health said that the WHO's choice of the issue of mental health this year was a recognition of one of the most prominent problems in the world. Representative of the WHO in Yemen highlighted the WHO's decision to concentrate on the mental health owing to the increase in the number of mentally sick people in the world. He indicated that women constituted a major chunk of mental patients. He added that more than 400 million people suffer from mental problems in the world. Dr. Ahmad Mohammed Makki, Member of the Al-Shoura Council for the Mental Diseases Affairs said that 10-40% of adults suffer from mental disorders and that more than 340 million people in the world suffer from depression. 
On this occasion, Secretary General of the United Nations in his speech said: "Today some 400 million people suffer from mental and brain disorders, schizophrenia, alcohol addiction, bipolar and obsessive compulsive disorders which are among the diseases responsible for the highest disability ratings in the world. Moreover, these numbers are expected to rise sharply over the next four decades, particularly among people in the developing world. 
Yet, despite the enormous social and economic burdens posed by metal health problems, more than 40 per cent of the world's countries have no articulated mental health policy, and over 30 per cent have no mental health programs. 
A global strategy to address the mental health crisis is needed, one which will incorporate both prevention and care. This issue will be taken up by the WHO's 191 member states at the annual gathering of the world health Assembly in May, and assessed in the World Health report to be released in October. But there is still more that can be done. 
The World Health Organization has dedicated this year's world health day to addressing the medical research, care policies, and ethical issues related to mental health. The day's slogan, "Stop exclusion, Dare to care," captures the need for the world community to address mental health concerns openly and honestly." 
Yasser M. Ahmad 
Yemen Times 
——
[archive-e:21-v:2001-y:2001-d:2001-05-21-p:./2001/iss21/health.htm]