"Yemen Detours, a literary and photographic journey in the contemporary Yemen" [Archives:2001/22/Culture]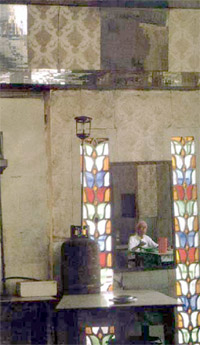 The French Cultural Center (FCC) is currently holding a program entitled, "Yemen Detours" in Sanaa and Aden, which started on May 23rd and will last until May 31st.
"Detours": A detour is a journey to the scenic backstreets of Yemen. Far from the traditional tourist clichés, this detour finds beauty in surprising places.
Last year, the French Cultural Center invited the French photographer Anna PUIG ROSADO to take pictures of the streets of Yemen. She focused her lenses on the walls and gamarias of Yemen. Afterwards in France, she teamed with the short story writer Jabbar YASSINE. Together, they created the book "Yemen Detours" in which her pictures and his short story "The Secret of the Crest" blend to create a surprising balade set in the streets of the "Arabia Felix".
At the invitation of the FCC, the two authors along with editor Sandrine ARGOULT arrived to Sanaa and Aden to present their work and lead the week's activities.
The French Cultural Center will hold the exhibition of the pictures from Mrs Puig Rosado together with some excerpts from Mr. Yassine short stories starting from today May, 28th to June, 30th. The exhibition "Yemen Detours" will be open to the public five days a week from 9 a.m – 1 p.m and from 4 p.m to 8 p.m, on the 2nd Floor of the CCF.
For three days, one French and one Arabic short stories will be presented simultaneously. First, in the French Cultural Center of Aden, in the 23rd of May, at 5.00 the editor who is specialized in Arabic book writing read a selection of works she has edited. On 29th of May, at 6.00 pm in the French Cultural Center of Sanaa, Mr. Yassine and Mr. Jamal Jobran will give readings from their works. Then, on the 30th of May, at 6.00 pm, there will be a poetry reading of Yemeni and Palestinian short stories.
The book "Yemen Detours" unites photographs and short stories, real images and metaphors. The pictures themselves are an exploration of both street scenery and life inside the home ; they go back and forth between the exterior beauty of the streets and mystery inside the houses. FCC chooses to hold these cross cultural events in order to honor the wandering spirit of the book. These events will enhance both plastic and literary art. Traveling in the space, traveling from one genre to another, the program is not a documentary about Yemen but an evocation of various point of view and emotions from one photographer, one writer and one editor. The FCC is pleased to invite everybody to participate to this adventure.
——
[archive-e:22-v:2001-y:2001-d:2001-05-28-p:./2001/iss22/culture.htm]