Yemen Times Exposes Violations at Prisons [Archives:2001/50/Front Page]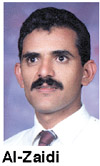 The Political Security Police (PSP) have just released Hassan al-Zaidi, a journalist for the Yemen Times, after being taken Monday of last week from his house. This is indeed the fourth time al-Zaidi has been detained by the PSP. During his detention, al-Zaidi came across some extrajudicial practices rampant at the security departments, which he summarizes as follows:
Detainees at the Political Security Police and the Criminal Investigation Police (CIP) in Sana'a live a miserable life inside the detention rooms of these two organizations. Many of these people had served long terms of imprisonment without even having a trial or an access to a lawyer. During my detention at the Political Security Police headquarters in the Hadda district, I saw many detainees who had spent months without trial. They are held incommunicado for months and simply do not know what will be their destiny. Indeed, all the detainees there are hopeful that the President of the Republic will intervene to end their suffering, particularly during the current month of Ramadan.
Similarly, the detainees at the Criminal Investigation's prisons in Sana'a live in very bad conditions, as the people in charge of prisons do not even provide them with food, as in the case of the PSP, which allocates a daily ration of four pieces of bread, some tea and rice for each detainee. Further, I found during my detention on December 12, 2001, 40 detainees held in a very small room who have not even been referred to justice. Similarly, I met five detainees who had not undergone any trial or given amnesty, because they had been imprisoned by an influential sheikh and thus only this sheikh can give orders to release them.
Officials at the Criminal Investigation Police absolutely don't care about the accommodations and food of the detainees. Consequently, detainees at the CIP have no choice but to order food from outside or to ask their relatives to bring them some; otherwise they will die of hunger. Mistreatment is very rampant at detention facilities of both the PSP and CIP. I was told by a detainee that he was hung upside down for hours by the investigators, so as to give confessions. Moreover, investigators use different means of torture to coerce confessions,, including flapping, snapping and depriving them of sleep. Accordingly, the Ministry of Interior should reconsider the instrumentality of investigations at its different departments and be more compliant with human rights standards and respect for human dignity. I was really surprised to see a jail-keeper demand from detainees money for providing them with water. Indeed, water is frequently cut in order to force the inmates to pay for it. Also, despite the existence of some shops at the CIP, the prices are prohibitively high.
Security departments in Yemen generally extrajudicially take hostages from the family of the person who committed a crime and escaped. In fact, not only Yemenis are found at the PSP, as I met during my tour at some detention facilities, three Egyptians who had served a one-year term of imprisonment and had not yet been released, although the prosecutor-general had earlier ordered their release. The three Egyptian nationals told me that their case has been referred to the President of the Republic and that they had been told by the Minster of Interior that only the President could give orders in their case.
The situation of prisoners really needs immediate interference by the President of the Republic with the view of putting an end for the sufferings of those citizens. The extrajudicial measures frequently used at security departments in Yemen are a breach of established Yemeni law and the Constitution. The living conditions of prisoners should be seriously tackled by both the Minister of Interior and the Chief of the Political Security Police in ways that ensure that all prisoners have access to sufficient food and appropriate healthcare. These are unalienable rights for a detainee as long as he is under investigation or a hostage.
These are some remarks that I found during my extrajudicial and repeated detentions. I hope there will be a listening ear for these remarks and that human rights are duly observed in our country.
——
[archive-e:50-v:2001-y:2001-d:2001-12-10-p:./2001/iss50/front.htm]