Yemeni American boxer"I'm not afraid to take a hit to serve a hit," Mihtar says [Archives:2007/1096/Last Page]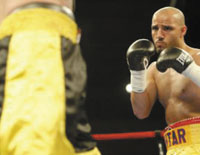 Amel Al-Ariqi
Early Thursday morning, Oct. 18, many Yemenis awoke to celebrate the last day of Eid Al-Fitr. On the other side of the world in the U.S. state of Michigan, another Yemeni was celebrating at 2 a.m. in that state's time with his friends and relatives.
Ibrahim Mihtar, also known as Brian "The Lion," had just finished his boxing match, defeating Francis McKechnie in round two.
Fightnews.com associate editor Andre Courtemanche reported, "Mihtar showed improved patience in dismantling Sault Ste Marie journeyman Francis McKechnie via second round TKO. Quelling the urge to launch a full-frontal assault, Mihtar picked his shots and took apart McKechnie with carefully placed power to the head and body."
However, this wasn't Mihtar's first win; in fact, his record is 36 wins and two losses after emerging in 2005 as a promising middleweight prospect in Detroit's fight game. Reportedly known for a concrete chin, punching power, elusive defense and body punching, Mihtar has drawn large crowds of Arab American boxing fans to his fights.
"A lot of people ask me why I chose boxing and my answer is that I've always been an athletic person. Fighting was something I always used to get in trouble for, so when I discovered boxing, it was like, 'You mean, you're going to pay me to fight?!' It was like a dream," he recounted.
Numerous web sites report his birth in Sana'a on Feb. 22, 1980; however, he corrects this, confirming that he was born in Detroit, Mich. on Aug. 18, 1979. He insists upon holding onto his Yemeni roots.
"I never changed my name, it's still Ibrahim Mihtar, I just use Brian as my fighting name," adding that he uses "The Lion" nickname because "I'm not afraid to take a hit to serve a hit. This is a dark trade and you have to have the instincts of a wild animal or you'll be devoured. My motto is: When in doubt, strike, just like a lion."
It's unclear when Mihtar's parents immigrated to the United States, but he affirms that he still remembers Yemen. "I remember when I was there during the 1994 Civil War. It was a little turbulent back then, but it was still beautiful. It's funny, I've traveled all over the world, but Yemen still has the greatest beauty.
He adds, "I plan to come to Yemen as soon as we can arrange it with the Ministry of Sports. I'd love to come and help boxing prosper through great textbook boxing."
Mihtar notes that being an American boxer of Arab descent influences both his fans as well as his boxing skills.
"Most Americans are good people and don't harbor racism, but when I am in a hostile crowd, I feed off of it. I actually fight better when I'm booed. I can silence a hostile crowd real fast with my skills and power."
Mihtar began boxing in 1998 after being drawn to the sport by former world champion "Prince" Naseem Hamed, also of Yemeni descent. After seeing Hamed at New York's Madison Square Garden, Mihtar returned to Detroit and went straight to the gym. "I've always had a love for the sport, but I was inspired to compete when I saw Naseem Hamed box."
Although Mihtar was inspired by Hamed, he hasn't copied "The Prince's" flamboyant style. "To a certain point, I was inspired by him. He was a superb athlete and a great human, but my fighting style is much different than his. Naseem was unorthodox and had a wild style, while I'm very textbook in my boxing. I don't believe in reinventing the wheel. I'm a boxing purist at heart – you'll never catch me dancing!"
Coach Emanuel Steward, legendary founder of the Kronk Gym, home of boxing champions, discovered Mihtar's talent. Steward states, "Brian is one of the real bright stars in boxing.
"He's humble and down-to-earth and I think that's what people are looking for," he continues, "He's a stand-up guy – and that's a little different these days – but he's also a high-spirited fighter. He fights with a lot of intensity and he's a good puncher."
Mihtar, who trains daily and spends hours studying tapes of old bouts and watching boxing legends on classic sports videos, confesses that his personal life is a bit harder, revealing that his parents hate boxing. "They absolutely can't stand it because they don't like violence. They want me to get a 'real job.'"
With four sisters and two brothers, Mihtar is married to a Muslim American woman of Indian decent and they have a 3-year-old son named Ismail. Although currently attending college, he hasn't chosen a major yet, but adds, "It'll probably be business management."
Asked if he's a millionaire, he laughs and responds, "I can't disclose that, but I will say this, I have no problem paying my bills, thank God!"
Mihtar is encouraged by the support of all of his fans, both Arab and non-Arab. "My ambition is to be the middleweight champion of the world. God willing, I'll reach that goal."
——
[archive-e:1096-v:15-y:2007-d:2007-10-22-p:lastpage]