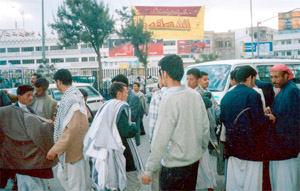 Yemeni Families Flock Towards Haraj Markets [Archives:2001/52/Culture]
Ekram al-Akori
For the last decade, specifically since the Gulf War, Haraj markets (second-hand markets) have widely spread in all the governorates of the republic. Many places have been allocated to such markets with the aim of buying and selling all kinds of second-hand commodities.
In Sana'a, there are so many Haraj Markets such as, al-Khaima Haraj Market in Hael Street. The most famous one is located in the al-Safia. There are also so many different Haraj markets and trading shops in al-Tahreer, Al-Kaa, and Shoaoob.
Om Ahmed, a Yemeni expatriate in Belgium, said "I always buy second-hand clothes as you see in this clothes shop, not that I'm not able to buy new clothes but these are of high quality. many Yemenis fight shy to come to these places, despite the good things offered here. In Belgium for instance, people frequently haunt these places without a sense of distrust."
Salma Abdullah from Mahweet, said: "I've come to al-Safia Haraj market to buy things due to the high increase of prices."A second-hand clothes shop owner in Al-Kaa Haraj Market said people of different nationalities frequent his shop.
Second-hand commodities areimported through Hodeidah and Aden seaports and are sold at very low prices.
Saleh Hussein, a peddler in Al-Tahreer Street, said "Officials of the Municipality always irritate us. But thank God that people like to buy what we offer.
"We buy clothes for children from Haraj and this is not a shame as some people think. It lessens the burden of spending too much money on buying new clothes for kids. I have got 12 children and I could spend only YR 5000 to buy new clothes for them. If I am to buy new clothes I may need an amount of YR 40 thousand, said Om Hani.
Elham from Aden has different views concerning buying second-hand clothes. She said buying clothes from Haraj markets had inevitable consequences that had scientifically been proved. "Most clothes are imported from Africa in which epidemics spread very quickly. These clothes are exposed for sale without even being washed, she said.
Hussein. a trader running ten second-hand clothes shops in different places said second hand commodities were profitable. "We buy cheap clothes and furniture and gain more than the original price when selling them, he said.
Economists have studied this issue. They attributed peoples purchase of second-hand clothes and other kinds of commodities to the weakness of peoples purchasing power. There is also t he increase in big families which sometimes contain more than 12 members. "Many Yemeni families return from the gulf countries following the Gulf War. Many of these families can not afford clothes for their many children so they find themselves forced to seek cheaper ones, said Fahmia khatib.
The deteriorating economy of Yemen and the low per capita income are the main reasons for peoples going to the Haraj markets.
——
[archive-e:52-v:2001-y:2001-d:2001-12-24-p:./2001/iss52/culture.htm]