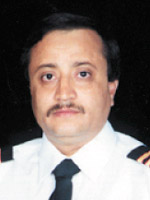 Yemeni Pilot Arrested in USA [Archives:2001/39/Front Page]
Investigation offices in Texas are currently interrogating Hamdoon Ali Mohsen Qalalah, a Yemeni pilot who studies aviation there.
According to his brother, Mwafaq, Mohsen is there for higher studies and that he got the scholarship from President Saleh in recognition of his brave action against the hijacker of the Yemenia airplane a few months ago.
Mwafaq appeals to human rights organizations to ensure an immediate release of his brother
.
——
[archive-e:39-v:2001-y:2001-d:2001-09-24-p:./2001/iss39/front.htm]