Yemeni Talent Participates in "House of Talent" Exhibition in Dubai [Archives:2001/15/Last Page]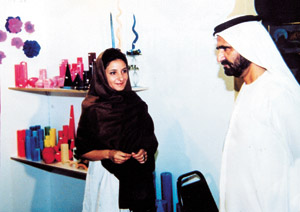 For the past two years, the House of Talent exhibition has achieved great success in the Dubai Shopping Festival. Under the Patronage of Her Highness Sheikha Hind bint Maktoum bin Juma Al Maktoum, wife of His Highness Sheikh Mohammed bin Rashid Al Maktoum, Crown Prince of Dubai and Defense Minister of the UAE, the exhibition has become a distinguished and popular platform for participants to combine creativity with excellence. Until now, the House of Talent has been encouraging young women from UAE only to display their creativity and talent in fields such as interior design, painting, handicrafts and fine arts. The House of Talent has now thrown open this opportunity to women from the GCC countries as well.
The "House of Talent" exhibition took place at Dubai World Trade Center – Exhibition Hall No. 6. for ten days beginning 15 March. It was held to encourage talented women from the UAE and the GCC, in different fields of art, and to give both the government and the private sectors the opportunity to experience this pageantry of creativity and talent, and to support them with practical marketing and sales promotion opportunities.
Coming all the way from Yemen, Mrs Jalila Jahaf, participated with her decorated candles she makes herself. We had an informal chat with her:
Q: How did you come to know about the exhibition?
A:By chance, through an ad in Zahrat Al Khalij. I was browsing the net and I found this ad about it. I became curious and contacted them. Miss Najwa Al Rahma was in charge and she invited me to participate. However, all expenses were borne by me.
Q: How many participants were there? From which countries?
A: There were around 250 participants, all females, mainly from UAE and rest from Saudi Arabia, Bahrain, Canada, Italy, Palestine, India, Pakistan, Qatar. I was the only one from Yemen.
Q: Did you find proper recognition of your talents and products?
A: Many could not believe that I make the wax that I decorate. They thought that I buy ready made wax and then decorate it. They were very impressed and bought some of them as well.
Q: Do you think such an exhibition is required in Yemen?
A:Yes, but who would sponsor it? Talents are many but who's to harness them and create an encouraging environment? In fact, Miss Najwa had gone through a lot of trouble to convince the parents to send their girls. In Yemen, this a problem is not as critical. I really wish something could be done regarding this.
Q: Did you find difficulty in transporting your products?
A:Yes, during cargo at the beginning. But if it wasn't for a few officers who were helpful it would have been much more difficult.
Q: Any thing else you want to mention?
A: Yes, I want to mention that if it wasn't for the support I found from my father and my husband I would not have been able to achieve this success.
——
[archive-e:15-v:2001-y:2001-d:2001-04-09-p:./2001/iss15/lastpage.htm]