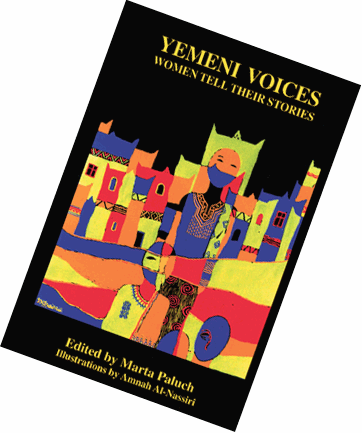 'Yemeni Voices' Author Marta Paluch in Focus [Archives:2001/13/Last Page]
Marta Paluch, British with a Polish origin, visited Sana'a for the fist time in 1997 to work for the British Council as an English teacher. She studied Social Psychology at the London School of Economics, and later gained an MA in Social Anthropology from Goldsmiths College, London.
Other than in education, Marta has worked in community development projects with ethnic minorities.
During her stay, she came in contact with some marvelous women who influenced her to the extent of writing the book "Yemeni Voices" ,inaugurated last Thursday at the British council center.
Her bicultural back ground helped her in understanding other cultures and hence her success in working in other societies all through her travels to Turkey, Spain, Colombia and Yemen. She had planned initially to work in Cameroon when fate brought her to Yemen instead.
" My personal drive to produce this book was the feeling of wanting to introduce my Yemeni women friends to an English speaking readership. More objectively this book will enable people who know a little, to find out something about the lives of the women who tell their stories. But, more generally, about events and processes that shaped women's lives." She said.
Q: How did you decide upon the book, and what prompted you to think that you could make this happen here?
A: I had the idea of writing such a book for a long time. I tried doing it in Turkey where I was teaching English and doing a translation but the opportunity happened in Yemen. It all started with the Key Women Project at the British Council which gathered important women in the society to teach them English. Initially they had a male teacher until I got a chance to teach them myself. We discussed women's issues as examples in their course and we even wrote essays from their own experience and work. It was overwhelming to see that they brought their experiences to class and exchanged opinions and point of views, as well as problems and solutions from their work. It was a kind of workshop and I wanted to record all of it in a book. So I started interviewing a few of them there and then, hoping that somehow I would get the fund which would allow me to produce the book. I thought if I don't get it eventually, I would do it on my own. However, I finished my period of work in Yemen before anything could happen, and I left doubting if I would ever be able to make the idea come to life. It was only when I got news from Martino Smits, development services manger at the British council in Sana'a that he found funding for the project from the DFID Fund for International Corporation in Higher Education, Gender and Development Small Projects Fund that I was able to come back to Yemen for eight months to work on the book.
Q: How did you choose those few women in particular?
A: There are many women whom I wanted to interview but the limitation of space and time made me cut down on the number and I had to be satisfied with those few. However, after the first set of interviews with those women in my class, I started to look further afield. I had also worked in Hodeida, so I went there and carried out interviews with women I had worked with and others they introduced me to. I was also interested to meet women in Aden as their history is so different. I got opportunity to visit Hadramawt in the process too. Apart from regional variations, I wanted to include women who are involved in politics to get a view from their perspective as well.
Q: About English, the Key Women Project aimed at teaching the language to distinguished women in the society, and you were a part of that project. How important do you see English as a language that should be learnt by such women and others?
A: Well, it has proven itself, hasn't it? It's the world language. The idea of being able to speak a language with which you communicate across the world is crucial. And this language happens to be English. I have come across many women who have been frustrated because they are not able to understand important seminar or reports because they were in English. Another thing is that all the best jobs in the development sector go to people who are not necessarily the best qualified or skilled, but speak the best English. It's quite problematic because I see that speaking English or not speaking English actually discriminates against people, in employment and in the development sector. Therefore teaching English to women who are highly skilled but do not speak the language is quite important.
Q: Where do you view these women 10 years from now? Do you think by then they wouldn't be struggling as much?
A: In spite of their problems these women have continued in their work, determined to carry out what they believe in, refusing to be undermined by the arrogance of their male colleagues. So I would like to think that they will reach higher just as they have reached where they are today. Yet, talking about struggle, they will still be struggling. It is inevitable., One might be a minister of education and still have to face obstacles caused by the deep-rooted mentality in Yemen. What is more important is that they should remain committed to their work, to women less fortunate than themselves and to the development of their country.
Q: You have been to many places. Can you compare the Yemeni Women to those of other nations?
A: The situation for women in Yemen is extremely difficult. The fact that there are no ministers, only two MPs and now one ambassador. This shows that women at the level of public life is very low. But wherever you look, women possibly are represented in the education sector equally, but where else? It's not just about getting women in the public sector but it's getting the right women there, so long as you can get women at the decision making levels who are committed to those at lower levels to them.
Q: Is there anything more you would like to say?
A: Yes, I enjoyed the process of getting this book done because sometimes the interviews were carried out in Arabic, and sometimes the women I interviewed knew little English. So they would first start talking to me in English, then turn to the interpreter and express themselves more in Arabic. That was a very interesting experience, and I should say that my back ground as a teacher did help me in understanding what they were trying to say. Finally, I hope that the women's situation in Yemen really improves.
——
[archive-e:13-v:2001-y:2001-d:2001-03-26-p:./2001/iss13/lastpage.htm]