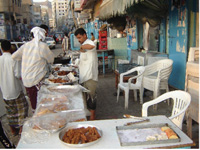 Yemeni Women and the Eid`s atmosphere [Archives:2006/991/Reportage]
Fatima Al-Ajel
[email protected]
The days before Eid, Yemenis are busier with the preparations of Eid. Yemeni woman have the major responsibilities of welcoming Eid. They care for children and prepare their house to welcome guests and welcome Eid. Many women have unique ways to prepare for Eid.
Last days of Ramadan, for Eid`s preparations
Days before Eid some Yemeni women are busy cleaning houses, cooking different types of cakes and biscuits while others take the charge to buy all the children's requirements. Yemeni women are organized, they make a plan for their few days before Eid. They start with the children's Eid requests. Some say that girls' requests need more time in searching while boys only need simple things.
Kawkab Omar is a housewife and a mother of two girls and two boys and she says Eid is a special day for her boys and it's three days of excitement for her girls. But it's difficult work for her.
"My daughters aren't satisfied with simple things, they look for the new fashions," said Kawkab.
Some women gather together in one house to arrange the Eid tasks.
As a housewife Atigah Musaed likes the help she gets from other women.
"In last days of Ramadan I go to my neighbor Nadia to cook the cake together," she explains. "We help each other especially we make different types of biscuits."
Other relatives gather at the grandfather's house to prepare the cakes of Eid where mothers and aunts always cook the traditional cakes while the daughters cook the new cakes and biscuits. Some women follow special cooking programs on TV or read books to learn new recipes so they bring something new to their Eid.
The preparation of the house is one of the feature of Eid. The roofs of houses are full with cleaned furniture as it's a belief the house has to be clean on Eid and when guests come. So, when women prepare the houses by cleaning from top to bottom.
The women also like to present themselves as clean as well so after the cleaning work is complete they enter one of Yemen's natural saunas. Eid preparation leave everything clean and ready.
A night before Eid
Most girls decorate their hands with nagash on the night of Eid either with khadab or by henna. Some girls visit the managasha; a woman who decorates bodies while others go to beauty centers. Nagash is a feature of Eid because it's impossible for a girl to celebrate Eid without decorated hands in most regions of Yemen. Some women who have finished the Eid preparations, go to managasha and make simple decoration on hands to feel Eid`s festivities.
Day of Eid, special visits for women and children
All numbers of Yemeni family get up early. men and children wear the new clothes while women tidy the house and especially the guest's room; put the dishes of chocolates, cakes and biscuits on small tables, use different perfumes – especially the Al-Awdah`s incense.
After Eid`s prayer, women accept the visit of their relatives until mid-day. On Eid all men go with their children to visit their wife's relatives women and they present money to the women and the children as the Eid`s gift which called "Al-Asib" or "Al-Eidea."
Children visit the neighbors to say "Eid Moobarek" – Happy Eid – and eat chocolates and receive more gifts. On Eid women and children acquire money as a gift from male relatives.
Afternoon of the first day is the time for women to visit family. Women return to their old family's house, which is the house of the grandfather as a traditional customs. Women use Eid as a great opportunity for social visits, they arrange many visits for friends, neighbors.
Some families, who are rich or own cars, use the vacation of Eid and make trips around the country. However, some families prefer to spend the vacation of Eid in their area with their relatives and neighbors.
During Eid parks, restaurants and the other tourist sites are crowded with visitors. Unlike some countries, cities in Yemen can be empty on the first days of Eid. People prefer to enjoy Eid in their homes and in the countryside – it leaves the streets of Sana`a empty during Eid.
——
[archive-e:991-v:14-y:2006-d:2006-10-19-p:report]