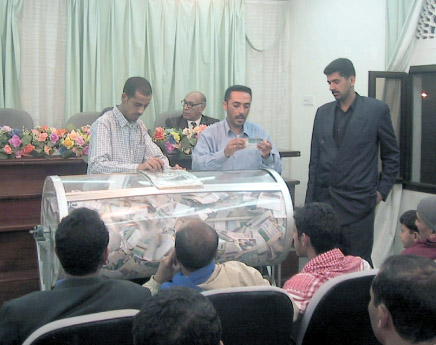 YTs Grand Million Contest Incredible participation, glamorous finish [Archives:2002/09/Front Page]
With the presence of more than one hundred observers, the draw of the Yemen Times Grand Millions Competition took place at the newspapers headquarters in Sanaa at 21:00 last Monday.
As can be seen from the above photo, the number of readers who participated in the competition, which started October last year, was tremendously high. We believe we have received tens of thousands of coupons, but who has the time to count? asked Editor-in-Chief Walid Al-Saqqaf.
The draw took place openly and transparently in front of participants who traveled from across the country.
The names of the 61 winners published on page 2 includes the 10 top winners who took total prizes of YR 2.5 million. The top prize was one million rials in cash. More than YR 1.5 million was in the form of prizes including electronic equipment, air tickets, and vacation packages.
No doubt, the other group of winners are the sponsoring companies. They gained a lot of publicity from the event. We have been receiving tens of calls a day asking of our products and services commented Isam Al-Haiqi of Artex, one of the contests leading sponsors.
The Yemen Times has shown how a widely-read and reputable newspaper can gain the trust and confidence of readers and sponsors alike, added another sponsor.
Contest organizers said prizes will be distributed following Eid. The top 10 cash prizes totaling YR 2.5 million will be distributed to the winners during our 11th anniversary celebrations scheduled for March 4, 2002 said the head of the committee, Nasri Abu Bakr. Once again, we have proven that we promise, and we deliver he added.
——
[archive-e:09-v:2002-y:2002-d:2002-02-25-p:./2002/iss09/front.htm]