Zain al-Saqqaf commemorated [Archives:2004/782/Last Page]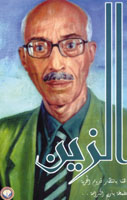 By Ramzi al-Absi
Yemen Times Staff
A great number of writers, poets, intellects and pressmen gathered together at Yemen Writers' Union on Tuesday October 12 to commemorate the 40th days of Zain al-Saqqaf's (1940- 2004) passing away. The Union divided the day to two parts, the first starting at 10 am and headed by Abdulbari Taher, and the second starting at 5 p.m. and presided by al-Fadhl Bin al-Hareth.
Many of al-Saqqaf's lovers and fans contributed to the activities of the commemoration expressing their shock and sadness for the sudden departure of Zain. They remembered him, his life, careers, and noble characteristics and adopted his quote, "I am waiting here for freedom's arrival having been perfumed with pride," to be flagged.
Dr. Sultan al-Suraimi, Yaha al-Shami, Mohammed al-Shaibani, Othman Turath, Dr. Mohammed Ali al-Saqqaf, and Jamal al-Ju'bi delivered their speeches giving the audience a clear overview of the late prominent writer. They mentioned Zain's reflections on their personal lives on one hand and on their organizations' foundation as a writer, politician, and real friend. Each of the speakers delved deeper and deeper in Zain's life: his study in Egypt, his role in founding the Union, his contributions to the Sudanese writers' issues, his "Al-Am Musfer" (his famous book), even his sense of humour. All of them showed their heartfelt consolidations. Lamia Zain al-Saqqaf, the daughter of the deceased intellect, delivered her speech, as outspokenly as her father, presenting Zain the noble father thanking the Yemen Writers' Union and the guests present for the kind emotions they kept in their hearts for her father.
On this woeful occasion, the Yemen Writers' Union published a commemorative book titled "Al-Zain", which includes six sections: the first is about the consolation notices that were issued by Yemen Writers' Union, Yemen Unionist Assembly, Yemeni Journalists Syndicate and the Yemeni Socialist Party. All of them expressed genuine grief over Zain's death. The second part of the book presented a variety of elegies written by a host of talented poets. The elegies collectively vowed not to forget Zain for his pure soul inhibited their writers' bodies. The third part of the very book comprises many writings on Zain communicating his overwhelming love that was clearly evident in his writings. Models of Zain's writings are presented in the following section; the kind of writings that reveal the great talented intellect who deserved great love for all. The extracts were a few and don't represent all his works, but his wise philosophies were clearly evident.
The book includes a record of condolences. Many of Zain's friends and lovers wrote their soft words in this section telling how dear he was to them. A pictorial part of the book contained some photos of the deceased marking various stations of his life.
——
[archive-e:782-v:13-y:2004-d:2004-10-18-p:lastpage]